Though very few tourists make it to the southwest corner of the Peloponessos it is not because it lacks beautiful beaches, charming port villages and impressive Venetian fortresses. It has all of these and much more. For those who know their history, the Messinians were the Helots, the Spartan slaves that did everything and allowed the Spartans to spend all their time training and fighting wars. If it were not for the Helots the Spartans would have been just another struggling city-state just like if it were not for African slaves the United States might not have become the power that it is today.
Kalamata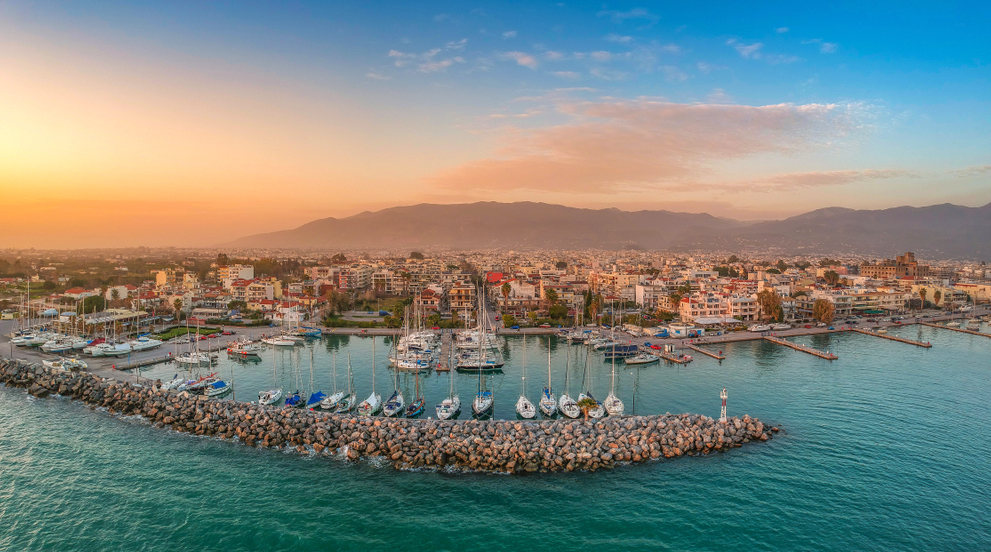 The closest most tourists come to Messinia is by eating the famous olives from Kalamata. When an earthquake hit this town in 1986 more then 10,000 homes were destroyed but surprisingly many of its older buildings and the impressive 13th century castle still stands guard over the city. But Kalamata, despite the familiarity of it's name and the charm of the people is not a prime reason to visit the region. If you are driving through Kalamata don't be dismayed by the canyons of apartment buildings. Kalamata despite looking like a big city is just like any town on a coastal plain and if you go east or west you can find your way out, maybe. If you are really lucky or good at reading road maps you may discover Petalidi Beach where there are hotels and rooms for rent and a large number of outdoor activities. To the east of Kalamata is Verga Beach with chairs, umbrellas, restaurants and cafes.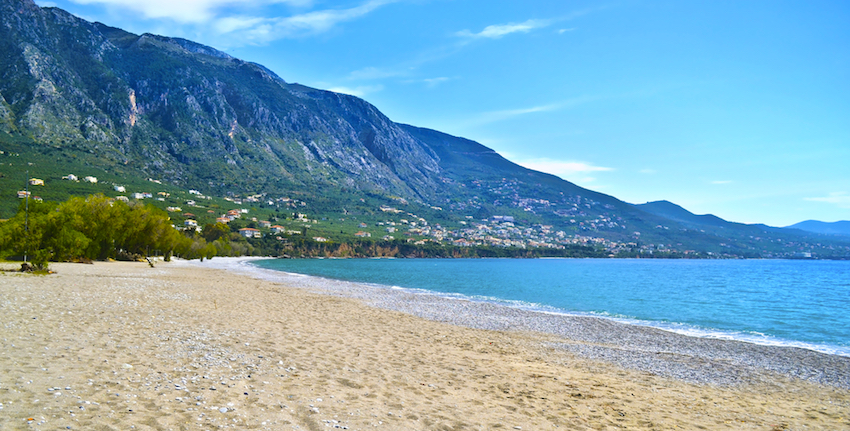 Verga Beach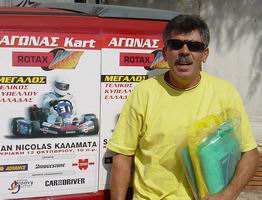 I love Kalamata olives and I would love to say something that would bring people flocking to the city. So if you love olives and you like funky working-class tavernas and especially if you love Go-Cart Racing then by all means visit Kalamata because the San Nikolas Pista-Go Cart on the beach in the western part of Kalamata has to be the most amazing go-cart track in Greece or anywhere. It is hard to miss since it is the only place on the coast with a giant ship in the front yard. The ship has been converted into a bar by Nicholas ("Not Saint Nicholas" he told me) who drives around the Peloponessos putting up his posters announcing big races.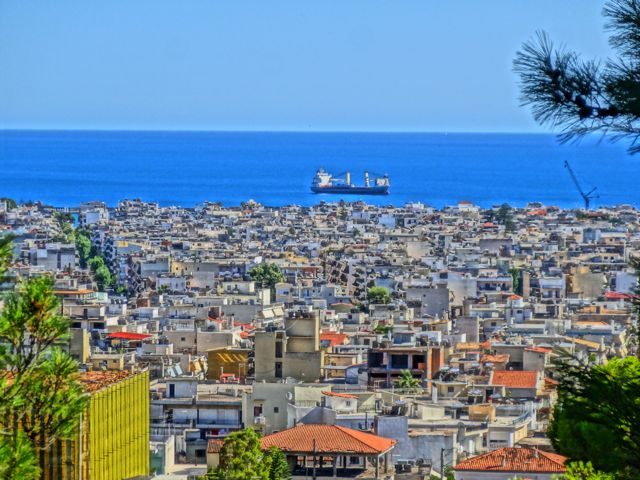 OK. They say they are working hard to clean up the town and there are pleasant tavernas along the waterfront, an active nightlife with many live music venues, and lots and lots of arts-related events so don't let me convince you not to go there just because I might have seen one of the beaches on a bad day. Kalamata is after all, a city, and few tourists come to Greece to spend their holiday surrounded by apartment buildings. I will say this and it can apply to any city in Greece, no matter how awful it appears. If you are there with someone who knows the city you might just love it enough to overlook the problems that most cities have. Kalamata is no exception. I have friends who love it. They may not totally disagree with what I have written but things are improving in Kalamata and there is more to bring people to the city than a go-cart track. For instance...
Kalamata is also famous for the Kalamata International Dance Festival held here every summer in July when thousand of visitors from all over the world, come to the city for performances, concerts, and art exhibitions.
See also Diana Farr Louis' Guide to Kalamata and Kalamata: A Local's View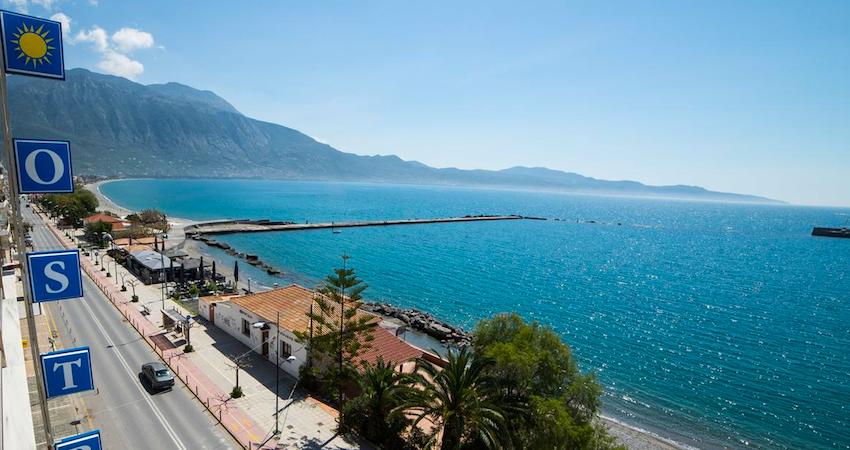 Hotels in and Around Kalamata
The Hotel Ostria (above photo) is located right across from the sandy beach of Kalamata, within walking distance of seaside restaurants, cafes and bars. It offers inexpensive rooms with free Wi-Fi and it has a bar. Rooms at Ostria are simple, yet tastefully furnished and air-conditioned. Each is equipped with a satellite TV, mini bar and hairdryer. All units have a balcony, while some enjoy views over the Messinian Gulf. Kalamata Art Rooms features accommodation with a flat-screen TV and a kitchenette. A terrace with city views is offered in every unit. Located in the central square of Kalamata, within a 2-minute walk of Municipal Railway Park of Kalamata, All units have a kitchen, a private bathroom and a terrace or balcony. A fridge and coffee machine are also featured. Most of the units offer views over the city. Garden City Resort features non-smoking rooms, a restaurant, free WiFi and free bikes. With a garden, the property also features a bar, as well as a shared lounge. The hotel has an outdoor swimming pool, fitness centre and a 24-hour front desk and is 2 blocks from the sea. Centrally located in Kalamata Town and just metres from the sea, Horizon Blu Boutique Hotel features an outdoor pool. It offers rooms and suites with garden or Messenian Gulf views. Free WiFi is available in all areas. Pharae Palace is located on the famous Kalamata beachfront and just few minutes away from the shopping districts and the port of Kalamata. Pharae's spaciously designed and tastefully decorated public areas create a unique atmosphere, where guest can go unwind and enjoy every moment of their stay. All rooms offer sea and mountain views, furnished balconies and room service.
See also Matt's Booking.com's Kalamata Page for more hotels, self-catering apartments, villas and holiday homes.
Ancient Messinia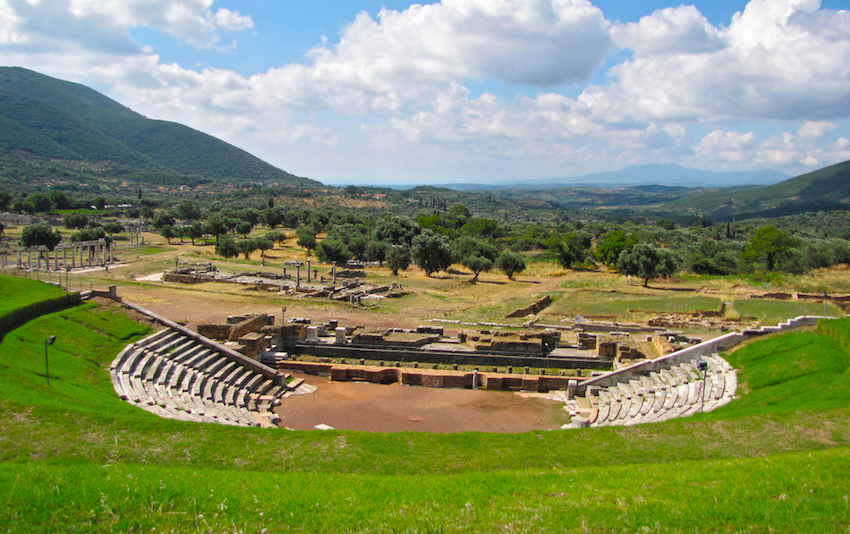 Ancient Messinia is one of the most impressive archaeological sites in the Peloponnese. The main feature is a large square aesklepion or health center, surrounded by a double arcade and enclosing the foundations of a temple, altar and bases for more than a hundred statues set on a deliciously green lawn. Smaller buildings line the perimeter, including a perfectly preserved little theater and an assembly hall with benches for 76 representatives. Further down the slope, the stadium has several rows of seats still intact, the gymnasium yet more arcades. Be sure to visit the museum as well.
Messinian Mani
If you go east from Kalamata you will come to the Messinian Mani. I have covered this in my Mani section on the Lakonia page for convenience sake, but here it is again since it is actually in Messinia and not in Lakonia.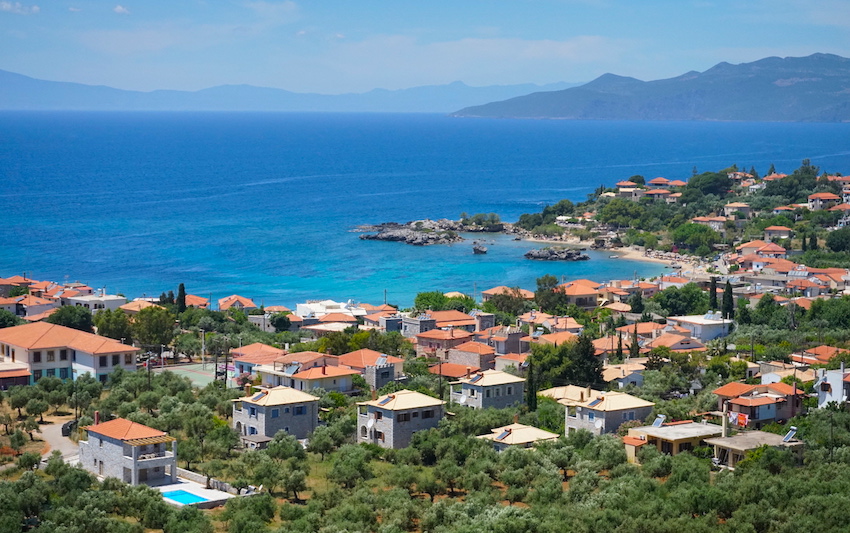 The town of Stoupa which is promoted as a resort for discriminating tourists looking to find the 'real Greece' actually appears to be a resort that is for tourists whether they are discriminating or not. But even though many who visit Stoupa seem to be the kind of tourists who don't care whether they are in the Peloponessos or Tunisia as long as there is a beach and a place to get a cold beer, looks can be deceiving and one is forced to come to the realization that if a lot of people come somewhere because they are looking for a place off-the-beaten-path, even though it is now on-the-beaten-path, those beating the path may be more interesting than your typical package tourists that mass like lemmings on the shores of popular islands like Mykonos, Corfu, Crete, Kos and Rhodes. Stoupa is an attractive and fun town with a nice sandy beach and a rocky cove on one end and a line of tavernas, cafes and tourist shops that overlook it. You could not find a better place for a Greek Island holiday and you don't even have to get on a boat.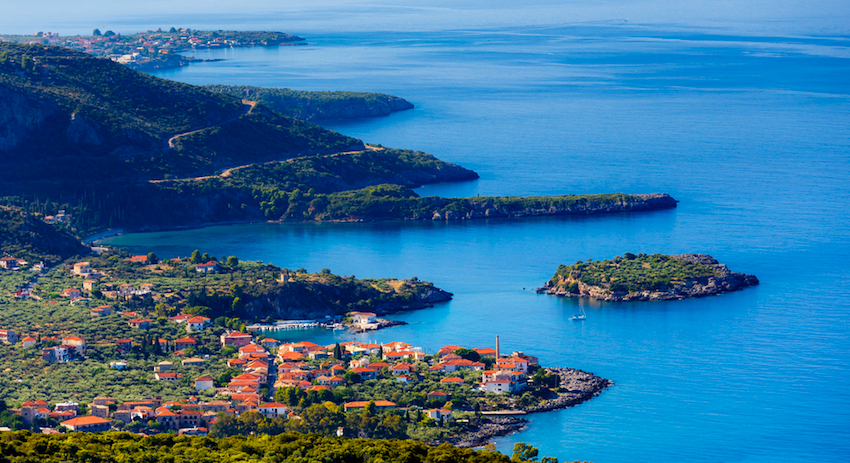 Kardamili is further up the road and is at the end of the Vyros Gorge at the foot of Mount Taygetos. It is popular with trekkers because of the number of trails which are color-coded so you won't get too lost on them. The main village which is above the port is quiet and attractive. There are some nice beaches in the area and a number of shops, restaurants and plenty of travelers, mostly of the adventurous variety.
See A Guide to Kardamyli by Dave Rochelle
For a list of hotels and booking information for Stoupa and Kardamili visit my Stoupa Hotel Booking Page

Gaitses is a complex of four villages: Kentro(Biliova), Vorio(Brinta), Anatoliko(Nerinta) and Chora, and comprise a district of the Municipality of West Mani. This mountainous area has many water springs and some abandoned water mills. The Gaitses villages are located alongside Ridomo gorge and offer a fantastic view of it. There are no hotels in the villages however if you want to see what an authentic untouristy Greek village is like this is a wonderful place to come for the day.
Koroni
If you go west and south from Kalamata you will be going down the eastern coast of the western finger of the Peloponnesos past several nice beaches. Between Koroni and Kalamata is the village and beach of Petalidi and the coastal settlement of Chrani both with a mix of pebble and sand beaches, hotels, apartments and holiday homes for rent on the beach and a number of traditional tavernas, cafes and shops. See hotels in Petalidi/Chrani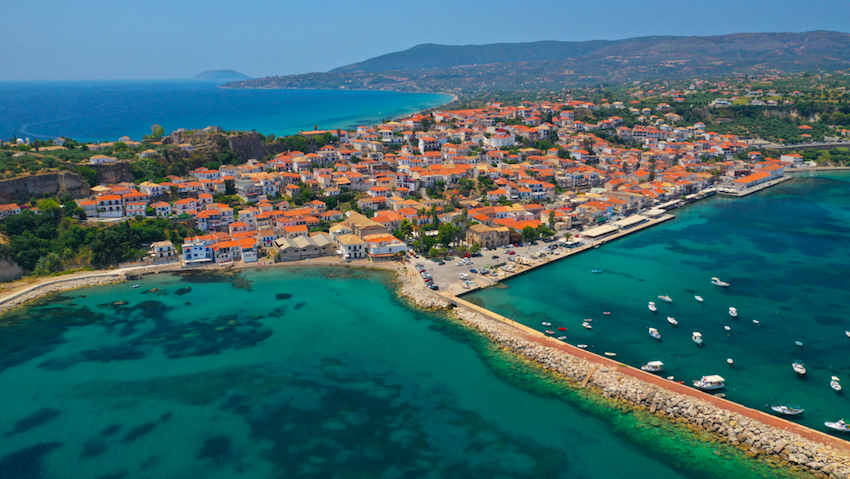 If you are like us, after an hour or so trying to find your way out of Kalamata you may decide your time is better spent in the little port town of Koroni with its lovely Zaga beach, its Venetian castle and a string of tavernas and cafes in the port. There is a convent in the castle as well as some houses. If you want to eat in the port try the fish taverna Kagellarios and be sure to order the Koroni olives which are like kalamata but bigger and juicier.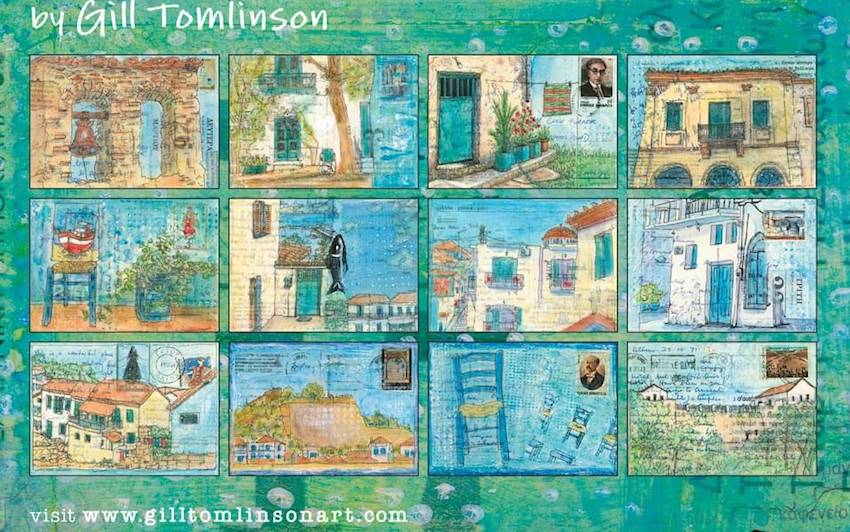 If you stop in Koroni be sure to visit the Gill Tomlinson Art Studio in Harakopio, where she sells her colorful paintings and calendars and also offers classes. As a long time resident her insight on local restaurants will enable you to bypass the conflicting opinions found on Tripadviser.
"Paleo Kaggelarios (the blue one in the middle of the harbour road) is good for fish and a wide menu in the summer especially. Synandisi Kafeneon (aka Takis') on the corner by the church does a generous pikilia and great fried gavros. For lathera (oven cooked dishes) the best place in the summer is Bogris which has a pleasant courtyard opposite the school. At the castle end of the seafront on Moxlos plateia is 'Resalto' restaurant which a lot of people like as it offers something a bit different from the usual taverna fare. In nearby Harakopio (our village) Taverna Fagopoti aka Foulis has excellent live Greek music every Friday evening with your meal (best to book a table). At Vassilitsi... 10 mins drive from Koroni...Nikos Taverna is extremely reliable with a wide selection of orektika and mains, especially in the summer, although it is open all year round."
For hotels in Koroni see Matt's Koroni Hotel Page.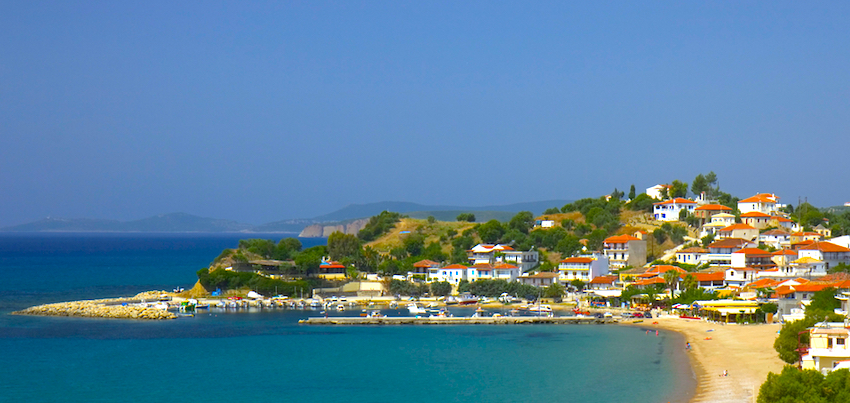 On the road from Koroni to Methoni is the fishing village of Finikounda, popular as one of the best windsurfing destinations in Greece, with a string of fine beaches, restaurants, hotels and campsites. See Finikounda hotels.
Methoni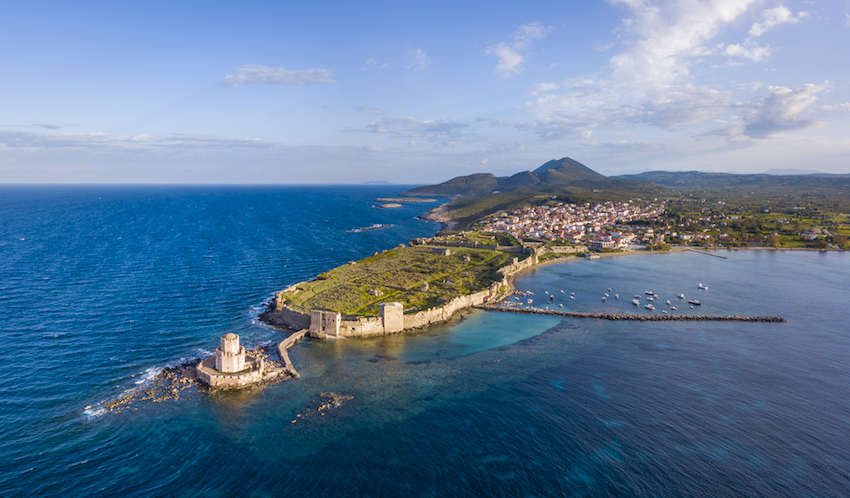 The town of Methoni has a vast 13th century fortress surrounded on three sides by the sea and the fourth by a moat. Inside the fortress is an entire medieval town and you can literally spend hours wandering around. The name Methoni comes from the stones that the small castle called the Bourtzi at the end of the peninsula sits upon which protect the harbor and continue underwater to the uninhabited island of Sapientza. Methoni is mentioned in the Illiad when it was offered to the angry Achilles by Agememnon. It was fortified in 369 BC and some of the original walls can be seen a little above sea-level in the castle side overlooking the stone pier. It was later used by the Byzantines and also used by pirates. In 1209 it was taken over by the Venetians and became one of the most important fortified cities in the Mediterranean and called Modon (Great name. Like something out of Lord of the Rings).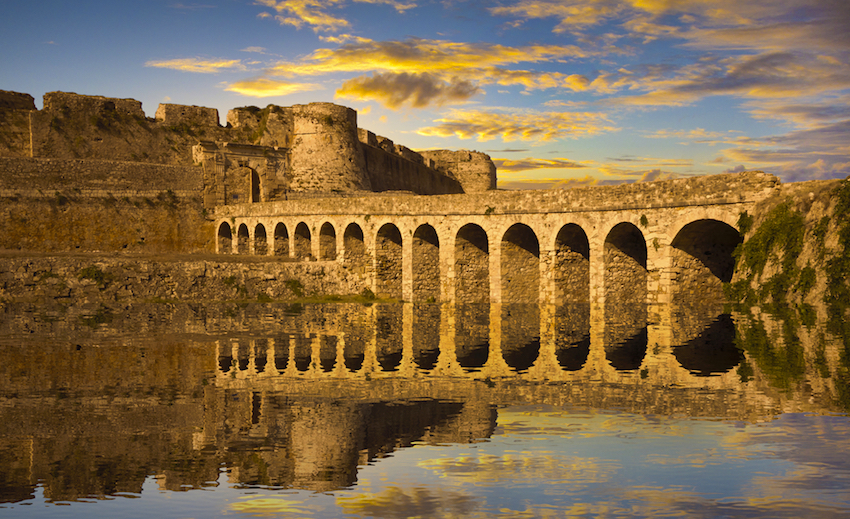 To get into the castle you cross over the moat on the arched bridge built by the French Expeditionary Force of General N.J. Maison from 1828 to 1833 which replaced a wooden bridge. As you enter the main settlement area of the castle you come to Morosini's Column which was erected in 1483 during the first Venetian rule and then re-erected 203 years later by Franccesco Morosini. Mysteriously there is no red granite in the entire area of Messinia. So where did this column come from? Nobody knows for sure but there is a nearly identical column in the Piazza San Marco in Venice.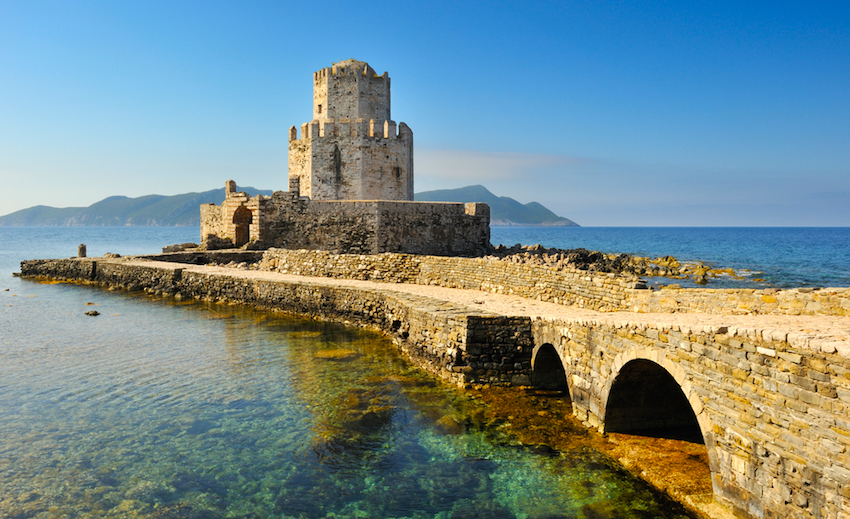 The Bourtzi at the south end of the main castle was built by the Turks in the 1500s and was a very scary place where people were imprisoned, tortured and executed, such as Gregorios Papatheodorou, the patron saint of Methoni who was martyred there in 1825. Methoni was also a place where slaves were sold. You could buy an old woman for a small fee to be used as a beast of burdon or for a bit more beautiful women, girls and boys. People too old or undesirable to be used as slaves were either imprisoned in the Bourtzi in such misery that execution was an act of mercy. To be fair to the building it also did a stint as a lighthouse and is one of the most photographed structures in the Peloponessos. You can cross the causeway to go in to the building and climb all the way to the top. Nowdays Methoni it is a much friendlier place than it was during the Turkish occupation and with a shallow beach right in town it is perfect for familes with some nice tavernas nearby in a large platia. For a hotel in Methoni try the Castello Methoni or see Matt's Booking.com Methoni Page
The Inousses Islands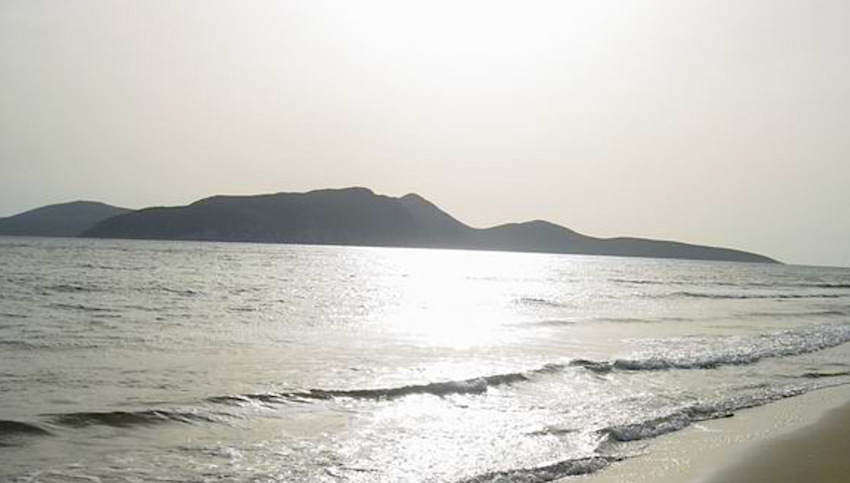 Below Methoni are the islands known as the Inousses which are all uninhabited but feature very prominantly in Greek history because of the many naval battles and shipwrecks here. The Spitha lighthouse on Sapienza was built in 1892 and has been automated since 1989 which made the island's human habitation unessential. Sapienza is rich in wildlife both on land and in the sea and is also used by the Nestor Institute, based in Pylos, for its studies in astrophysics, oceanography, siesmology and marine biology and it's on-going search for nuetrinos. There are a couple beautiful beaches on Sapienza but before you go be warned that during the hunting season try not to be mistaken for a wild goat, pheasant, partridge or quail by the hunters who pay as much as 200 euro for every goat they bring back. (much cheaper at the market but I suppose it's not the same thrill). There is also an underwater archaeological park where local fishermen found a large number of granite columns and sarcophagi from what was assumed to be a ship that has been carrying antiquities from the city of Caesarea in Palestine. To be honest it is not yet an archaeological park but there is hope that it will be in the future and as in the rest of Greece you need permission to dive there. In Vigli, the widest of the islands there are the ruins from the Roman era and a stalactite cave called the 'black hole'. Amargiani or Agia Marina is the smallest of the islands and is covered with vegetation. On the 17th of July fishing boats take people to the small dock for the panagiri (saint festival) of Agia Marina.
Pylos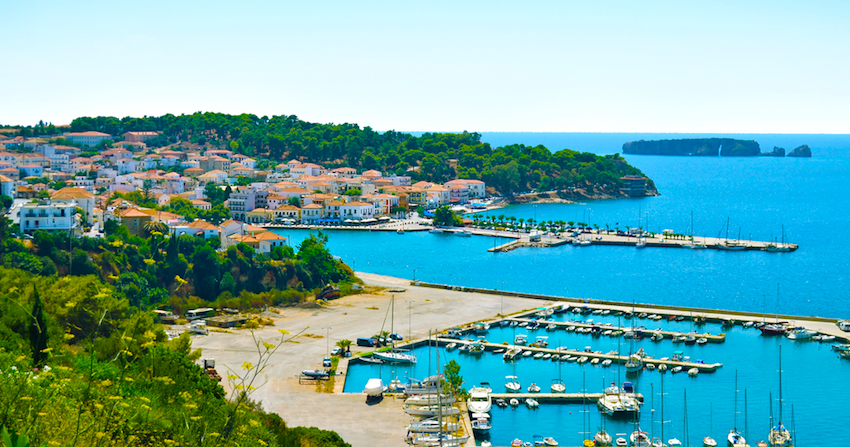 The town of Pylos, one of the most attractive coastal villages in Greece was the site of the Battle of Navarino which was not even supposed to be a battle but became the turning point in Greece's war of Independence when the British, French and Russian fleets under Admiral Codrington 'accidentally' sank Ibraham Pashas combined Turkish, Egyptian and Tunisian fleets. Though meant to be a warning for the Turkish ships to leave the bay the end result is that those ships are still there to this day and can be seen in the clear waters. Though an embarrassment for Britain the end result of this misunderstanding was that the Peloponessos was liberated and the Peleponessos became the nation of modern Greece. The town itself has a central square down by the waterfront and most life revolves around it. There are two castles; one on each side of the bay and nearby is the Mycenean Palace of Nestor one of the best preserved of all Mycenean palaces. Many of the frescos and artifacts found here are now in the archeological museum in nearby Chora.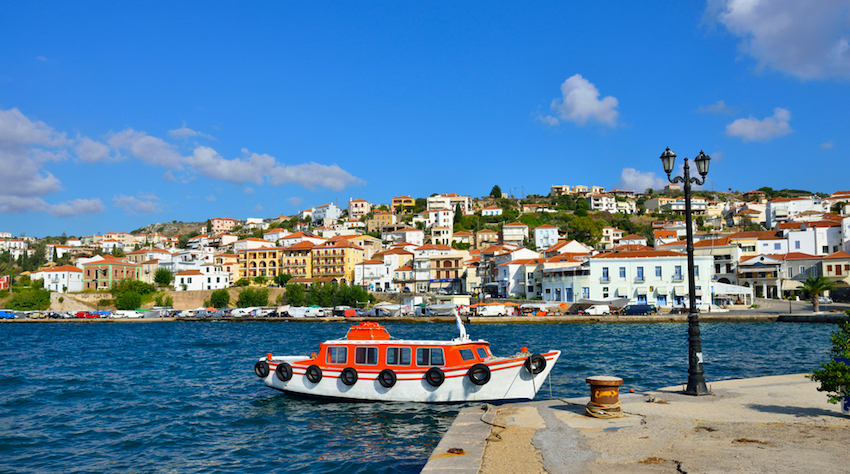 A little more about Pylos because it was for me one of my favorite places in the Peloponessos. The town has a big square which ends at the port and features an enormous platanos tree that can probably fit a hundred or so cafe tables beneath it. Pylos reminds me of Greece in the sixties in many ways. Unspoiled by tourism the town seems fairly self-sufficient and there are a number of interesting shops that have little to do with tourism. There are a couple tourist shops that have a good collection of books, many about the area. Besides having the castle and being in an impressive setting at the north end of a large bay which is sheltered from the Ionian Sea by a string of islands with high cliffs the town was the home of Kostis Tsiklitiras, the Greek Olympic athlete who won 4 medals in the standing long and high jumps in London in 1908 and Stockholm in 1912.
On the way out of town we stopped at the wine cooperative and bought a couple gallons. The cooperative looks like a big factory on the right hand side of the street when you enter the town of Gialova and noting about the place looks like they would sell wine there but they do. The wine is a red called Nestor and the cooperative is the Agrotikos Oinopoitikos Synetairismos Messinias.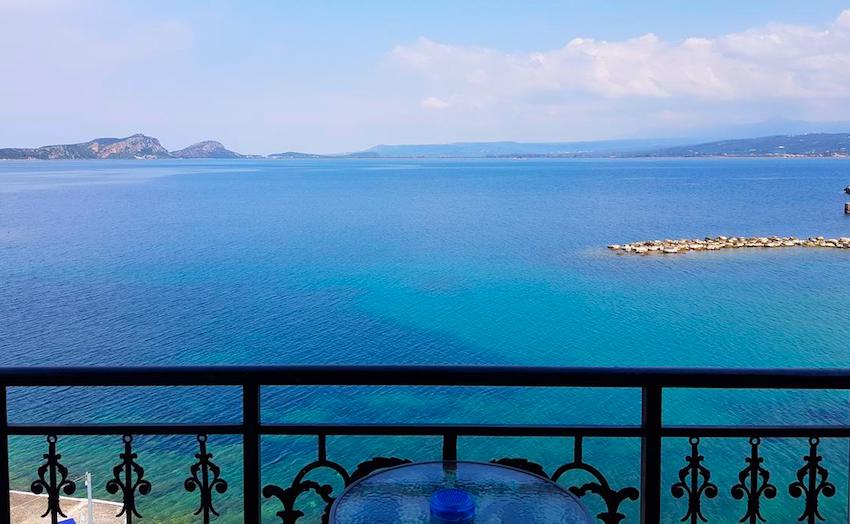 In Pylos we stayed at the Hotel Miramare which overlooks the bay and the islands and is located just under the castle. The rooms are interesting in their decor and I don't know how to describe them except to say they had a sixties feel to them (Andrea says seventies so think platform shoes and Saturday Night Fever). But the hotel is owned by a retired sea-captain by the name of Nikos Houmis and he keeps the place clean and run efficiently. The location is great because it is right in the town on a side street yet it is on the beach and quiet. Nice little bar and the place seems cozy enough for winter tourism too. Featuring an outdoor pool, the family-run Hotel Philip is located in the town of Pylos. It boasts a restaurant and stylish accommodation overlooking the Navarino Bay from its furnished balcony. Free WiFi is available. Situated right on the beach with a private deck in Pylos Town, Karalis Beach Hotel features a beach bar and a wine bar, as well as a roof bar with unobstructed Navarino Bay views. It offers modern rooms that open to a balcony, while free Wi-Fi is available throughout. For more hotels, self-catering apartments an d villas see Matt's Pylos Hotels page.

North of Pylos is Voidokilia which is not only a spectacular beach and wildlife area but a place of great historical value with evidence of habitation from the Neolithic period and just about every period since. It is the location of what is known as Nestor's cave. The Palace of Nestor near the village of Chora is on the hill of Ano Eglianos and though it is said to be the most intact of all the Mycenaean palaces there is not much that stands over a meter or so off the ground. Still it is a great view and if it is raining (like it was when we were there) the site is covered and you can walk around and keep dry. On the other side of the parking lot is a vaulted tomb, one of many in the area. The artifacts found in these tombs can be seen in the Archaeological Museum of Chora. Perhaps as impressive (actually more impressive) as the Palace of Nestor is the ancient olive grove which surrounds it with trees that are several hundred years old.
Pylos is the home of the African Chameleon and in fact it is the only place they can be found in Europe. There are only 300 individual chameleons left and they are endangered, not because of natural predators, climate change or even tourism. They are endangered because the Greek Ministry of Agriculture has issued a license to the company Hippo Vlachos and Sons to collect 320 specimens and sell as pets. Not only the European Chameleon but birds, tortoises, snakes, tree frogs, lizards and other endangered species have been included in this plan to 'save' the species by collecting them all and selling them. Upset? Write to the Convention on International Trade in Endangered Species at cites@unep.ch
If you visit the area buy the book A Road South: Chora, Pylos, Methoni by John A Biris. By far the best guide to the area and enjoyable reading too. You may be able to get it through Greece In Print or at one of the bookshops in Athens but if not you may be able to find it in Pylos or Methoni. You can also try contacting the publisher: Ultrasound. 69-71 Iroon Politechnou Street. Pireaus. 185 36 Greece. Telephone:210 451 5577.
Stay in luxury and Play Golf in Messinia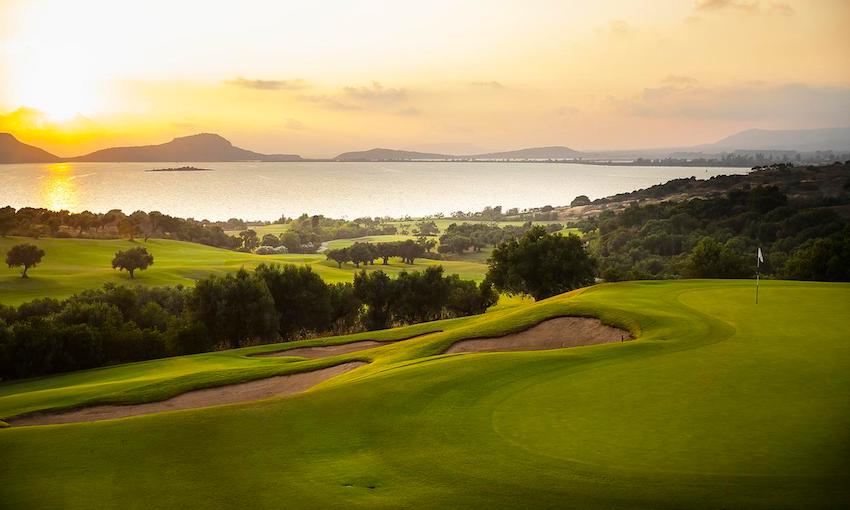 The Westin Resort, Costa Navarino
Set in an idyllic beachfront location in Messinia, the Westin Resort boasts a hydrotherapy spa and 123 private infinity pools. All elegant rooms come with flat-screen TVs and free Wi-Fi. Inspired by old Messinian mansions, the resort's villa clusters use natural stone and local design elements, in perfect harmony with the virgin sandy beach and pristine hillside landscape. Decorated with contemporary furniture, light wood and muted tones of sea and sand, each of Costa Navarino's guest rooms features a private balcony overlooking the resorts' olive groves and landscaped gardens. The Westin Resort's guests can enjoy a relaxing al fresco lunch, poolside refreshments and evening cocktails. Morias restaurant features a fresh-waffles-and-pancake station, while a wide variety of aromatic teas is served at the 1827 Lounge and Bar. Guests can indulge at the Anazoe Spa & Thalassotherapy featuring an indoor pool or play a game of golf at the on-site Dunes Golf Course. Children will be delighted at the kids' golf and kids' tennis courts, the Navarino's unique Sandcastle and the Cocoon playroom. Click Here for photos, information and booking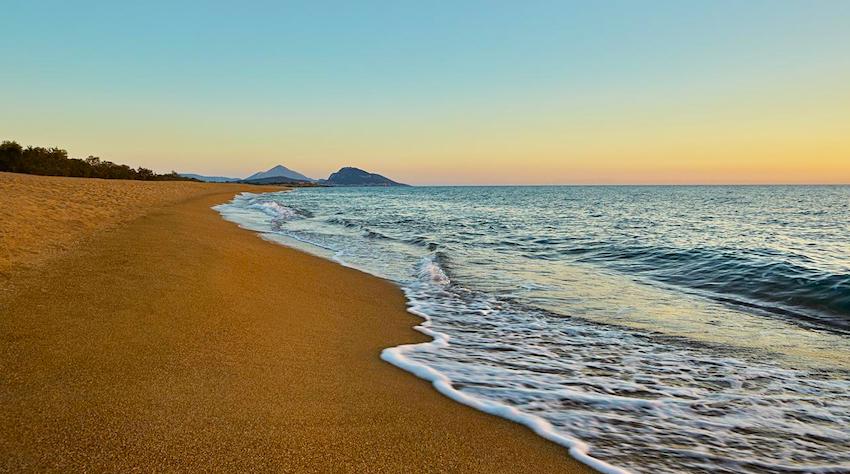 The Romanos Luxury Collection Resort is a brand new 5-star hotel with breathtaking views over the Ionian Sea and offers exquisitely appointed rooms and suites all of which have private terraces. Privacy reigns in the 289 rooms and 32 suites with private infinity pools. Traditional Greek design with contemporary touches sets the tone in each space. At The Romanos Resort, Costa Navarino the rich history of the region blends harmoniously with the contemporary amenities offered. In addition to an elegant array of dining and leisure options, guests are invited to explore Navarino Dunes's 4,000 square meter Spa and Thalassotherapy Centre and the Bernhard Langer championship golf course - the first signature golf course in Greece. Click Here for photos, information and booking
Kyparissia
My grandmother was from Kyparissi, a small village in Lakonia. Whenever somneone would ask where my family was from and I would tell them they would say "Ok. Kyparissia" and I would say "No. Kyparissi. in Lakonia." Then they would nods their head as if they knew it and change the subject. But Kyparissia is a large town on the west coast of the Messinian Peloponessos, known for its ancient acropolis and castle and for being the birthplace of the poet Kostis Palamas it was mentioned in the Iliad and at one time was called Arkadia. The Venetian castle at the top of the town is called the Castle of Arkadia and has amazing views of the town and the coast. The town is close to many clean beaches, in fact much of the coast is one long, sandy beach. It is a nice area for hiking when it is not hot and there are old trails from the town to churches and beaches. Nearby is the Mycenean site of Peristeria. The Neda River flows into the gulf of Kyparissia and hikers follow it to swim in the waterfalls, a hike of several hours after a drive on a mountain road that you need a 4x4. There are loads of restaurants in the town from fish tavernas to traditional mayerfta (oven cooked) and psistarias (grill houses).
There are hotels of all categories like the 5-star Apollo Resort Art Hotel , or the 4-star Messinia Beach Hotel, as well as small family run hotels, self-catering apartments, villas and simple rooms. Search Kyparissia Hotels.
Be sure to see my Photos of the Peloponessos for pictures of Messinia
More Helpful Information
For my choices of the best hotels, apartments, villas, and holiday homes in the Peloponnesos see my Hotels of Greece Peloponnesos Page
You can find hotels in Messinia by location, price, whether or not it has a swimming pool, and see photos and reviews by using this link to Booking.com. Excellent prices and many hotels you can book and then cancel with no cancellation fee. For those who want to book without using a travel agency this is the best way to do it. And using this link helps support Matt Barrett's Greece Travel Guides
If you need the assistance of a travel agency to coordinate your trip through the Peloponnesos with the Greek islands visit my Athens Travel Agency page.
For car rentals see Swift Rent a Car in Athens who will actually pick you up at your hotel and drive you to the National Road and send you on your way.
For a taxi from the Athens Airport to Kalamata or anywhere in Messinia, as well as tours of the area I recommend George the Famous Taxi Driver. He and his sons have different vehicles, limos, mini vans and a bus so they can handle any size group and they will even do your hotel booking for you.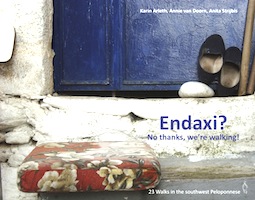 Endaxi? No thanks, we're walking!: Annie van Doorn is a Dutch woman who lives in the southern Peloponesos. For several years she and her friends have been exploring Messinia's tracks and hills by foot. After a few years, they decided to make a walking guide out of all their explorations. They brought together all the information gathered on their walks and published: "Endaxi? No thanks, we're walking!" In the book 23 walking tours in Messinia are presented and described in detail. In addition there is background information on this region of the Peloponnese, its places of interest, its beaches and, of course, the people who live here. And of course there are lovely photographs in the book. Over the past few years "Hiking" has been making something of a come-back in Greece. Increasing numbers of tourists are now also realising that outside high season, Greece, and specially the area Messinia, has much to offer: breathtakingly beautiful scenery and unspoiled natural countryside, all waiting to be discovered by those on foot. With this guide Annie and her friends hope to give a positive swing on active tourism. Available in either English, Dutch and German.
Price: 17.50 Euro.
Can be ordered from: endaxi2013@gmail.com