A One-Day Journey around Rhodes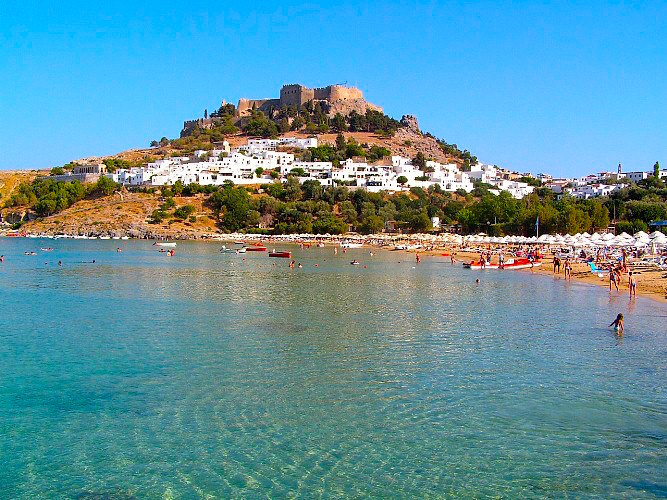 Rhodes is a large island and unless you want to just stay on one beach or in the city for your entire holiday, a car is almost essential for at least for one or two days. A taxi excursion is an even more efficient way to see the island since the drivers know where to go and won't make any wrong turns that end up getting you lost or waste time or miss important sites (like we did). Rhodes is a little big for motorbikes or scooters and some of the roads are like highways, though for some budgets this is the only choice. In 1972 we opted for motorbikes and every night we sat around and talked about who had a wreck that day, like soldiers returning from heavy combat."Did you hear? Pancho wiped out. He hit a garbage truck." Usually the victims would appear at a later hour in bandages and orange mercurochrome. Amazingly nobody ever died. Nowadays I would skip the bikes and go for the cars. They are safer and more comfortable. Bikes are OK on a small Cyclades island like Sifnos or Santorini, but Rhodes is a little bit too big to be buzzing around on a 50cc Honda, though you can't beat that feeling. When we came back in the summer of 2004 we rented a car and drove around the entire island starting from the west coast, going south and coming up the east. It was unusually warm and we were happy to be cruising around the island in an air-conditioned Hundai Getz, which is probably the smallest and cheapest car with ample power to get up and down mountains.
Western Rhodes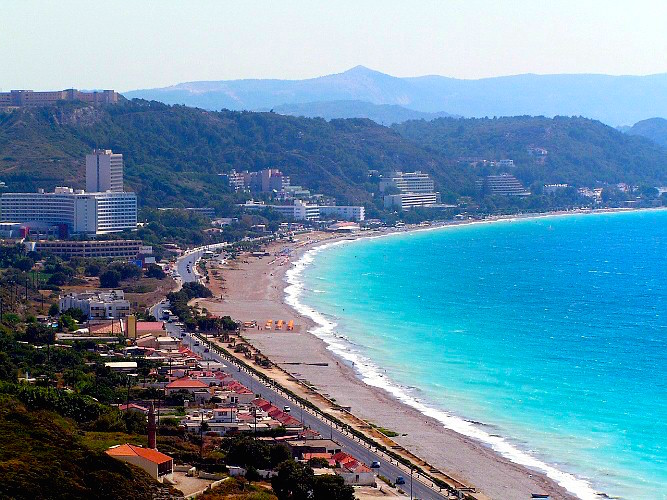 The white sandy beaches of the Aegean which begin in Rhodes New Town continue through Ixia and along the coast towards Ialyssos, one of the richest districts in Greece because of the luxury hotels there, though government ineptitude (to put it nicely) seems to have misplaced the funds for the upkeep of the town itself. The newly elected mayor has promised to remedy this situation. In the meantime the area does have some beautiful beaches and an impressive collection of Chinese restaurants are incentive to come for a visit. (There is a Mexican restaurant too) The luxury hotels are like self-contained cities and most people probably get their entertainment in Rhodes town if they are not in the hotel bars, restaurants or in their rooms watching pay-for-view movies on TV. The monastery at Filerimos on the site where Suleiman the Magnificent had his headquarters during the siege of 1522 was originally a small church that had an icon of the Virgin Mary, painted by the Apostle Luke. Later it became a basilica and then the Monastery of Saint John, built by the knights in the 14th century and destroyed by the Turks when they evicted the knights from the island. Rebuilt by the Italians it became a Capuchin monastery until the second world war when they all left, it has been closed ever since. The Acropolis of Ancient Ialyssos, the 3rd Century Temple to Athena, and the Church of Agios Georgios with its wall paintings are here as well.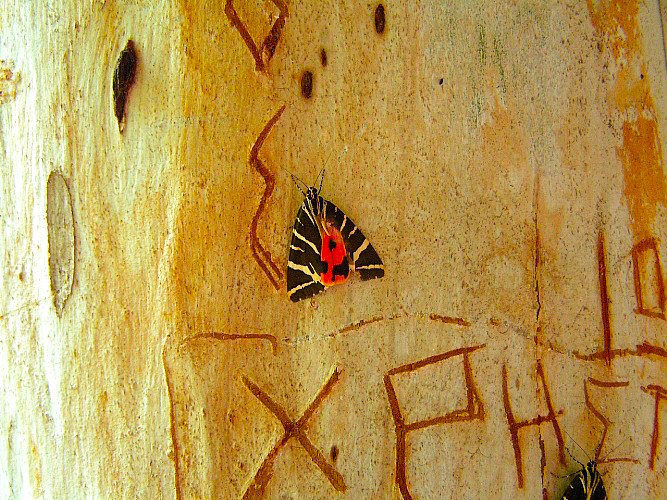 The Valley of the Butterflies is worth a visit and though their numbers are declining due to the impact of tourism on their habitat, they are still impressive. I don't know if they really qualify as butterflies or moths but they are beautiful. Try not to make too much of a commotion. They hate noise and have been known to attack and devour exceptionally loud tourists. Every year, from June to September, swarms of multi-coloured butterflies lay their eggs here. They live, stuck to tree trunks, feeding on their juice. The German entomologist Elger claimed that these butterflies are night butterflies of the rare species Panaxia, which first appeared in the Himalayas. Today, they live in Australia, Brazil, Peru, California and in every place where there are trees that produce resin with a characteristically strong smell. They won't really eat you. That was a joke. The walk through the valley costs 4 euros and follows the stream up the side of the hill. On a hot summer day there is no place better, except maybe the beach. There is also a restaurant and a gift shop where you can choose from thousands of products that have something to do with butterflies. Unfortunately for the butterflies their season happens to coincide with the tourist season, from July to September. But no matter how many butterflies or tourists are there on a summer day the walk by the stream is pleasant. In fact even if you come in the off season and the butterfly population has dwindled to a trickle it is still a beautiful place that reminds me more of New England than a Greek island. Some advice for women from Andrea: Try to use the toilet before you come to the Valley of the Butterflies. She had to wait on line for half an hour. Also if you can be there when the tour buses aren't you will find it a lot more peaceful. If you are here during the 14th and 15th of August there is a panagiri (festival) at the nearby Kalopetra Monastery.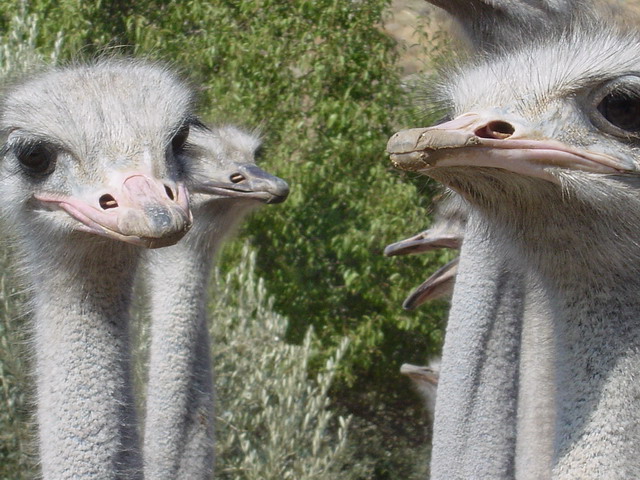 Near the Valley of the Butterflies is the Winefactory Estate of Anastasia Triantafillou where they make high quality, organic wines from the Rhodean white Athiri grape and the red Mandilari grape as well as Cabernet Sauvignon, Merlot, Grenage Rouge and Moschatel. They have a limited supply but you can sample and buy when you do their winery tours.
If you feel guilty about drinking wine while your kids look on patiently, you can reward them with a trip to the Rhodes Ostrich Farm and Park where they can visit over 120 ostriches, foxes, a kangaroo, llama, a monkey, antelopes, dwarf goats, deer, wild boar, ponies, rabbits, ducks, parrots, partridges, ferrets, skunks, and more. The farm is about 1500 before the Valley of the Butterflies.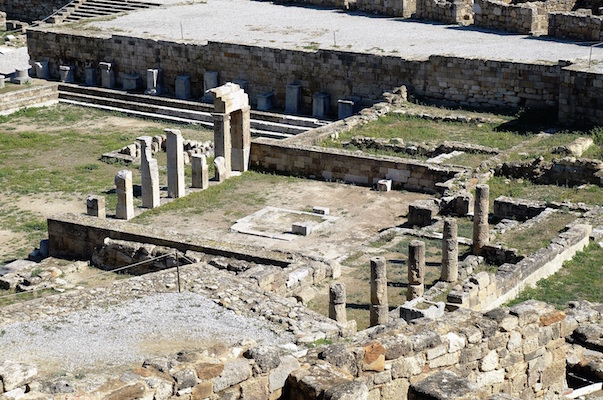 Thirty kilometers west of the city is Ancient Kamiros one of the three powerful cities in Rhodes, in ancient times. It was rediscovered in 1929 and has been called the Greek Pompei because nobody knows why and how the city was deserted and buried. These are fairly extensive ruins and certainly worth visiting though if you are traveling with kids they may be a little bored by the ancient city's lack of walls over a couple feet high. But you can buy their patience with a promise of a swim at the beach of Ancient Kamiros or a visit to the harbor at Skala Kamiros where you can catch the morning boat to Halki. The Monastery of the Virgin Mary sits on the ruins of the third century BC temple of Athena, which sits on top of an even older temple. Most of the ruins are from the Hellenistic Era and include the city market and a Doric temple and arches. Many of the findings have been taken to the Louvre and the British Museum but will hopefully be returned one day. (Write your local French and British congressman). There are also many pieces on exhibit in the archeological museum in the city. By the way I have a small confession to make. In the village of Soroni there is the Monastery of Agios Soulas where every July 30th one of the island's most popular festival is held which features, horse and donkey races, dancing and food. I didn't go to Kamiros because we missed the turn-off and wanted to get Katavia by lunch (plus I am one of those guys who never wants to turn around and go back...or ask directions) so I rewrote what I read in Toubi's Guide to Rhodes (recommended).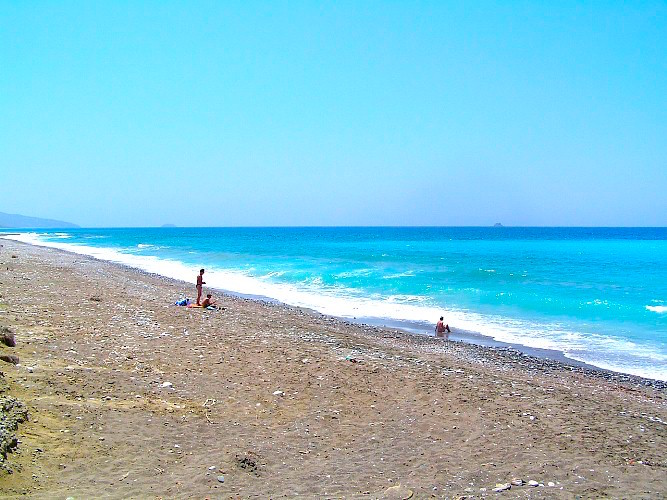 The best beaches are on the east coast they say, but if you drive down the west coast, the Aegean side, once you get past the resorts there are miles of empty sand beaches and the most turquoise seas you will find anywhere. We were there during peak season and there were not more than a couple dozen people scattered along several miles of coast. There is a seaside fish taverna where the road from Apolakia finally meets the sea. Along the way you pass medieval castles perched on mountain tops, pine forests, villages like the town of Siana, known for their Souma, a strong alcoholic spirit like raki or grappa that is sold in roadside stands. We drank some in a small cantina on top of a mountain overlooking the sea and as a lover of tsipuro I can say this compares favorably and we bought a bottle from the woman who was making sausage sandwiches for the travelers who had stopped to admire the view.
Southern Rhodes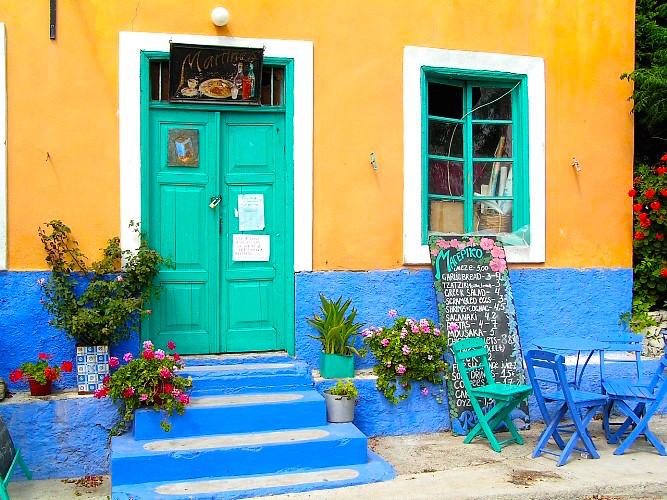 Katavia is the most southern village on the island and also happens to be the birthplace of my wife's great grandfather so we stopped for a lunch in one of the small tavernas which advertised their fresh fish and Greek specialties in endearingly poor English. We chose the restaurant with two old women running it. They took our order and both went inside to cook it for us and returned with one of the most beautiful salads and fresh fish and vegetables, all local. Katavia is known for its potatoes and tomatoes so we could not resist their fried potatoes, fried in local olive oil of course. Katavia has a couple interesting churches, one from the Byzantine period, surrounded by a small graveyard where we searched in vain for Andrea's great grandfather. As we sat in the crossroads in the town which serves as the main square, the sky was covered by a large cloud and it actually seemed like it was going to rain. We asked the ladies if this was normal and they said yes, it actually happens every day. As nice as the two ladies were and as good as their simple meal was, the Mageriko Restaurant, shown in the photo looked very intriguing. Not just because it was such a beautifully painted and decorated old building but because the menu posted on the blackboard looked incredible. Unfortunately the restaurant was closed because of personal matters, a sign on the door said. So I am hoping some adventurous person who reads this website can go and check it out for me. During the second world war the flat plains below Katavia was where luftwaffe planes left secret Nazi airstrips to bomb the allies in the Middle East.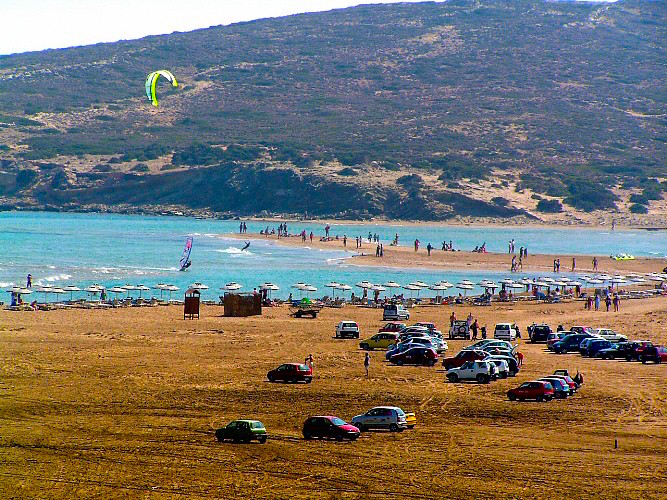 Beyond Katavia is the tip of Rhodes and the tiny island of Prasonissi. It looked remote and sort of uninteresting on the map but when Ana Kamais called me on my cell phone and found out where we were she urged me to go down for a look. "They windsurf there", she said simply, though when we got there we found this to be an understatement because this looked like the windsurfing capital of the universe. We came over the hill to see a stretch of white sand that reached almost to the island and on each side were dozens, maybe hundreds of colorful sails and parachutes. So many that it looked like there should be a collision every minute. But there were none. These people were serious windsurfers going at speeds that would rival the fastest powerboats. Some were using skis and attached to parachutes by a harness and they would race along the sea and suddenly zoom into the air. There were a number of rooms for rent, a few tavernas and some shops for windsurfing gear and a line of campers. We asked Michalis Axarlis about Prasonissi at dinner that night and he told us that people get off the planes and ferries, their only luggage being their windsurfers and go straight to the tip of Rhodes where they stay and surf until it is time to go home. Like the northern tip of the island by the aquarium and our hotel, Prasonissi is where the Aegean meets the Mediterranean.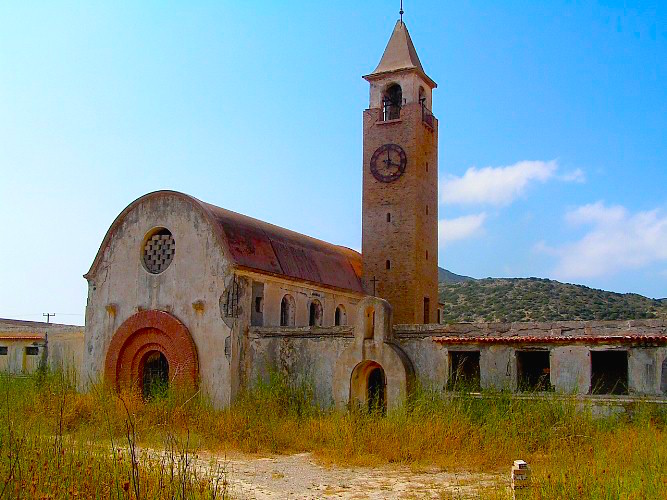 A couple kilometers east of Katavia is the agricultural settlement of Ag Pavlos, a sort of cooperative set up by Musslini before the war. There is an abandoned monastery called Agios Markos nearby, used now by a couple doves, some goats and a farmer for storage, the walls covered by graffiti and the names of people who have stumbled upon it, including ours. The fact that this monastery was abandoned was surprising and may have to do with the problem of ownership since it would make a great cultural center, ashram, school or villa. We assumed the property was owned by Italians and getting the papers for it would be too daunting a task so they just let it fall apart. The whole area is agricultural, with fields of wheat and some abandoned art-deco houses and farms, these too apparently left by the Italians. From here we drove up the east coast of Rhodes towards Lindos, stopping only a couple times to take some photos because as I mentioned, the island was very hot that day, in what turned out to be the last of a mini 2-day heat wave.
Around Lindos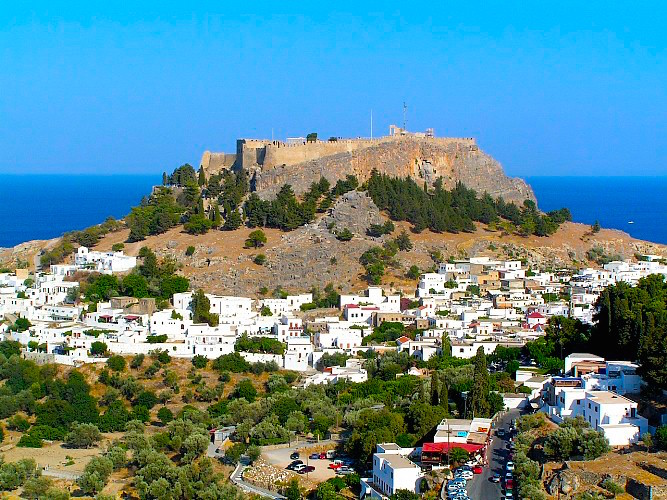 The town of Lindos is the tourist capital of the island. Often described as a quaint island village, in reality it is a resort with a small village at its center. The beach is excellent but crowded in a summer that seems to last around 8 months. The village itself is cycladic in style and the home to many famous and not so famous artists, musicians and normal people who were lucky enough to be here early. The famous Acropolis of Lindos is the most well known of all ancient sites in the Dodekanese and can be as crowded as the Acropolis of Athens sometimes. Lindos was the original capital of the island, established around 2000 BC and has been home to everyone from the ancient Greeks, the Byzantines, the Franks and the Turks, including visits from such luminaries as Saint Paul and the Knights of Saint John who re-fortified the castle and Pink Floyd. The village itself is closed to automobiles and is a labyrinth of tiny streets and alleys that make wandering through the town an adventure. Like much of Rhodes finding a place to stay in the summer is tough so book in advance or just come for the day. If you don't have a car or bike there are frequent buses and you can even take a taxi or an excursion boat or Flying Dolphin from Mandraki Harbor in Rhodes City. There are several large self-contained luxury hotels on the outskirts of town, with more on the way. (See info on the book by Willard Manus if you want to read about what it was like to live here during the good times and the not so good).
Kiotari is a what was once a small fishing village but is now a thriving beach town, with several beaches actually, lots of hotels, villas and holiday homes, and some very nice fish restaurants. See Kiotari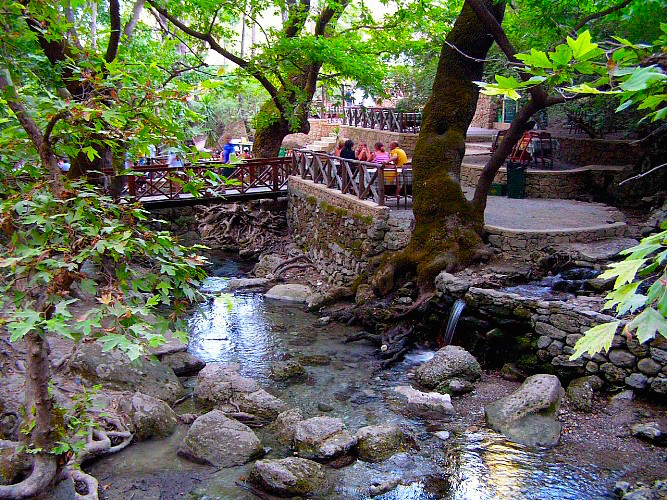 Epta Piges has a small lake fed by seven springs (epta piges) and a family of geese, ducks, peacocks and a nice tree-shaded taverna which overlooks the stream. By this time we were pretty exhausted and all I wanted to do was take a couple photos and drive back to the hotel. It did not help that I missed the turn-off to Epta Piges and we went driving off into the mountains. This time Andrea made me turn around and I was a little irritated and even the happy quacking ducks could not cheer me up. I snapped a couple dozen photos of which only one or two came out and then waited impatiently while Andrea and Amarandi followed the stream and wandered in the woods. But Epta Piges is a beautiful place, again looking more like New England or somewhere in the Smokey Mountains, than Greece, except for the souvlakia, mousaka and the ouzo, which would have made me feel better if I still did not have another 40 minutes or so to drive. Anyway, don't miss this place if you drive around the island, or take a taxi and have lunch or dinner here one day in a very unique setting.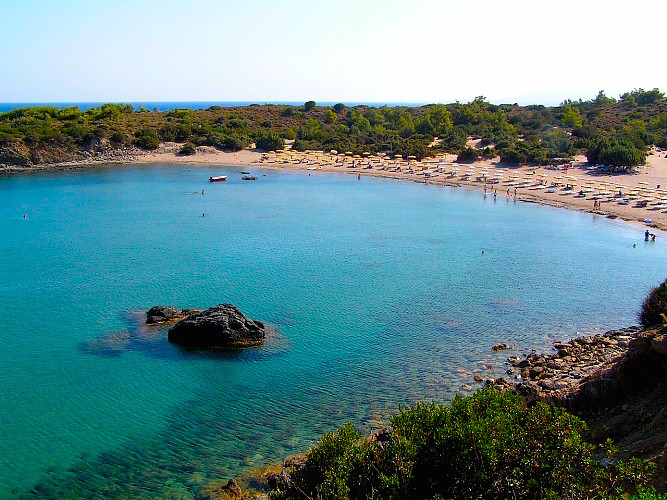 The east coast of Rhodes has a number of beaches, some in coves and bays like Lindos and some long stretches of sand. Obviously the farther you get from the tourist areas, the fewer people will be on the beach. There is nude bathing on the southern end of Faliraki beach but don't come here planning on your own personal, private paradise. Faliraki is also home to Greece's longest water-slide and an amusement park complete with ferris wheel and bungy-jumping and may be used as an incentive to keep your children behaving. You may have read something about the town in your local papers or even seen it on television. A couple years ago the town was really out of control but things have calmed down a lot since then and you and your children are pretty safe. We didn't stop here that day but we came by a couple nights and cruised the town, once with Nick the taxi driver on his off-night and the other with Michalis the taxi driver on his off-night. There is more on Faliraki in the nightlife section.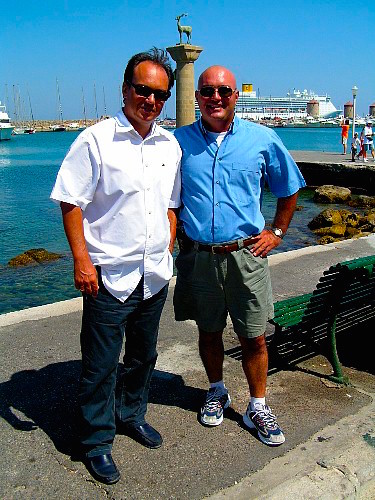 Kalithea Thermi has an old Italian Health spa and its known for snorkeling and skin-diving. Apparently an earthquake cut the hot springs off which is probably about the worst thing that can happen to a spa. Kolymbia and Tsambikas are nice beaches but as most beaches in this area are in the summer, quite crowded. However before you dismiss any beach because it is crowded let me just mention that Rhodes is the favorite destination to some of the world's most lovely women. Lately the mass-tourism that brought the lovely Swedes and their distant cousins the British lager-louts to this beautiful island has largely dried up and places like Faliraki, whose names were synonymous with teenage decadence and debauchery are pretty tame, their clubs serving a fraction of the alcohol they used to. There are still plenty of young people but it is not as insane as it was a few years ago and it won't be long before beer-chugging contests are replaced by several rounds of miniature golf. The tourist season which was once eight months long is now about 90 days. But when the package tourists left they did not take the good weather with them so in my opinion Rhodes is better and if you come in the off-season you can find the privacy you seek.
By the time we made it back to the city there was a nice breeze blowing and a change in the weather. Parking was easy and all we had to do was leave the keys to the rental car at the desk of the hotel and we were done.It was pretty easy but if I had to do it again I would use Nick and Michalis of Rhodes Private Tours. Not that I don't enjoy driving. But why should I have to drive a crummy little rental car and have to keep my eye on the road when I could be sitting as a passenger in a nice big comfortable Mercedes enjoying the scenery?
The Rhodes Toy Museum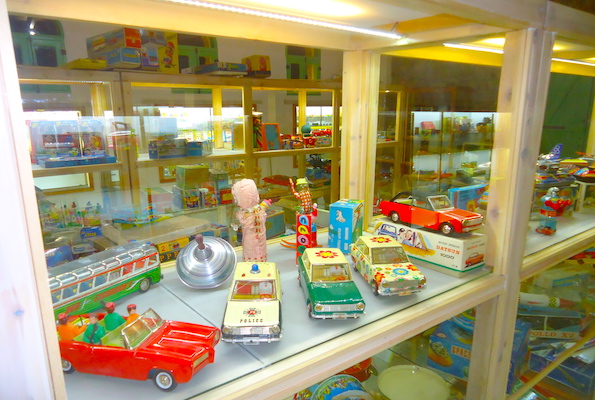 The Rhodes Toy museum is located just outside the village of Archipoli, (On the road to Psinthos, 800 meters outside Archipoli). In this museum you can find an exhibition of toys, all made in Greece, from the period starting in 1930 until about 1990. Wind up tin toys, battery operated cars, board games, Greek playmobil are amongst the large collection of toys that are shown in the main exhibition hall. The basement is set up as a 'Games Room' with arcade coin operated machines dating from the sixties until the nineties, including a pinball machine, jukebox and pac-man. These machines are all in working order and can be enjoyed by the visitors of the museum. Beside the exhibition there is also the opportunity for children to play actively. There is an area in the museum where they can play with well known toys such as lego and playmobil, find interactive toys and also take part in handicrafts. Outside the museum there is a playground for children, and a terrace where visitors can enjoy the stunning view. In the gift shop of the museum one can buy original souvenirs. Bring back memories and relive your childhood at the Rhodes Toy Museum! Opening hours: daily from 10 p.m till 5 p.m (7 th of April until 1st of November) Entrance: free!