If you love to eat you will love these tours....
These tours are provided by local food and wine enthusiasts with various backgrounds in gastronomy. They have traveled and explored the tastes and aromas of the Greek culinary tradition. They love Greek food and wine and know it well. Some of them are chefs, others food and restaurant reviewers and others are lovers of Greek wines. Let them guide you on a journey into the best of Greek food and wine!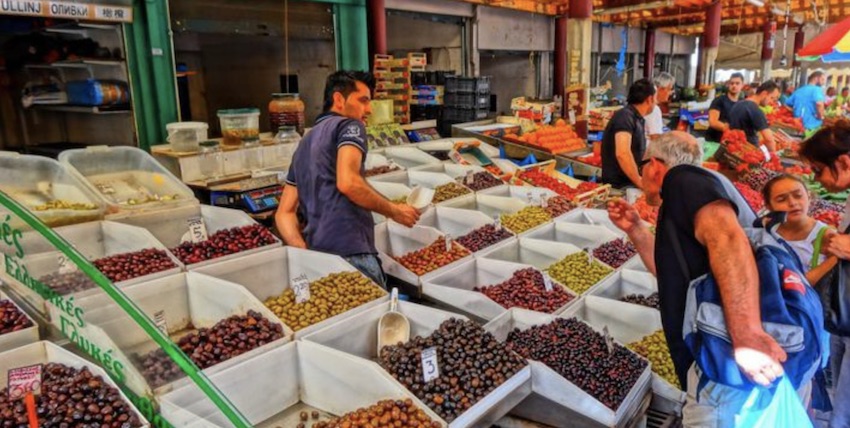 Rachel and Michalis invite you to join us on an exciting adventure in Athens and experience authentic Greek flavours as they introduce you to their wonderful city. Visit the vibrant food markets full of colour. Eat at family run tavernas and delicatessens where Greeks people shop weekly and meet the local traders who love their city. Experience 11 different foods with wine or raki and learn about Greek culture, habits and lifestyle. The tour lasts around 4 hours as you stroll through the different areas in Downtown Athens. You will visit the wonderful food markets full of colour and the smell of spice, enjoy a souvlaki, Greek sweets, koulori, traditional cured meats and cheeses, dolma, halva and fresh fruits and yogurt and we end our tour at the spectacular Athens Cathedral. The tour involves moderate walking and regular sit down stops to eat. Make sure you are hungry and wear comfortable shoes for our journey
Prices for food tour:
Adults 1-3 people 60e per person
4-6 people 57e per person
7+ people: 55e per person.
Child rate - all children under 13 47 e per child.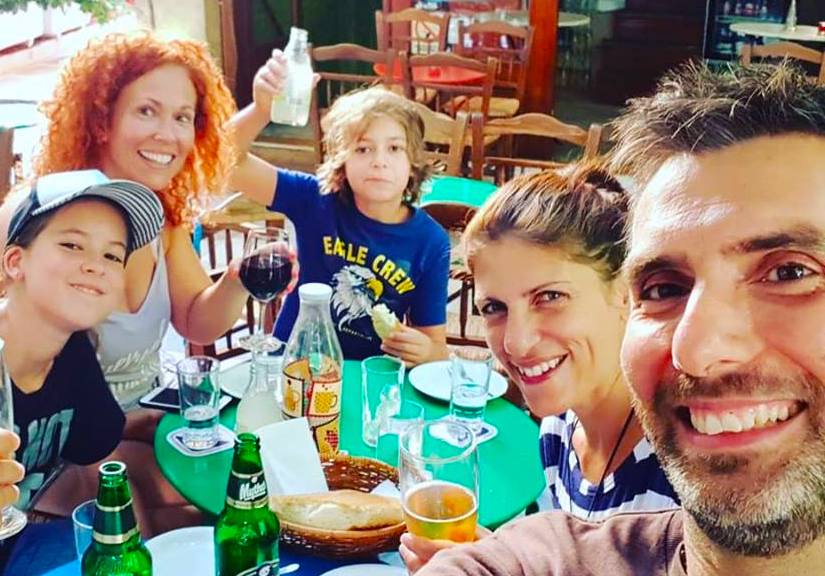 Sunday is a special day for Athenians. Start the journey in the very centre of the city, Syntagma Square where you will see the impressive changing of the guards ceremony outside the Houses of Parliament. From there you will enjoy a Greek coffee and Koulori – also known as a Greek breakfast, before strolling through the ancient streets of Plaka and learn stories of how the Greeks live and eat every day. Then let Rachel and Michalis introduce you to a hidden taverna , shaded by a beautiful garden and with some of the best traditional food in the city. You can expect to enjoy Greek salad, Gigantes, Gemista , Greek breads and some Greek barrel wine. After a relaxing lunch you will walk further into the city to the flea market area where you will see ancient ruins set amongst the modern day graffiti that Athens is so well known for. Continue to Psirri to introduce you to a wonderful, warm and creamy Bougatsa desert, which is a must whilst visiting Athens. Make sure to keep some space for a souvlaki and of course, they know the best place in town to buy it.
The tour lasts around 4 hours and involves moderate walking and regular sit down stops to eat. Come hungry and wear comfortable shoes .
Tour size 1 -8 people
Price per person 60e
13+ years 40e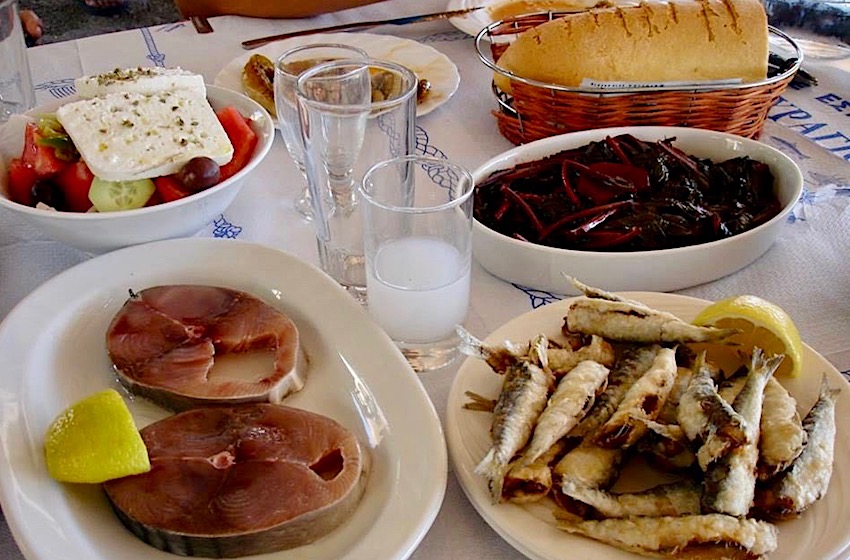 Ouzo and Mezedes in Central Athens
Welcome to Athens from Rachel and Michalis. We are experienced Tour Guides and passionate fans of Athens. Athenian Michalis has been introducing people to Athens for many years and its clear to see the love he has for his home city. From a family of cooks, food has always been a Passion for him that he enjoys sharing! Rachel is half Greek and came to Athens to fulfil a strong ambition to show people the Athens that she loves so much! We are dedicated to showing you the best that Athens has to offer in food and drink in non touristic bars often with live music and traditional tavernas. Athens is a city full of magical contrast and strong culture and we would love to introduce you to this whilst indulging in some of our traditional drinks - ouzo and tsipouro. We will start our journey right in the centre of Athens in Monastiraki and take a walk around the ancient market area before visiting a Greek Ouzouri where we will enjoy different ouzos with a fish meze.(Vegetarian option available). We will then visit the oldest part of Athens, Plaka where we will indulge in tsipouro and ouzo with a meat meze (vegetarian option available) After a visit to our magnificent Cathedral we will finish our afternoon with a sweet desert and a Greek coffee.
Bring your appetite, comfortable walking shoes and a wish to have fun
Price 62e per person, must be over 18 to partake in the alcoholic drinks although children may come and will be offered soft drinks.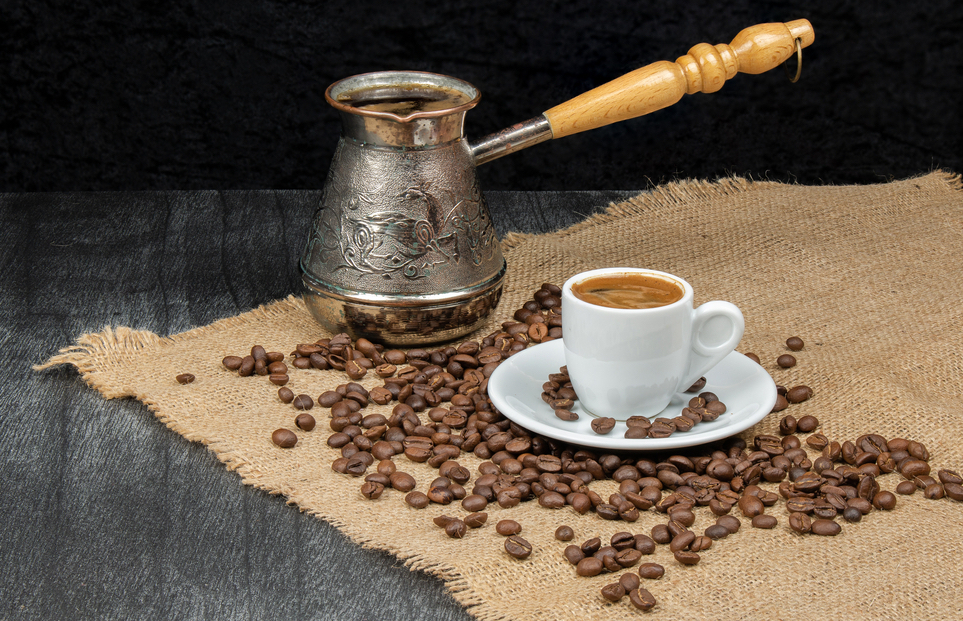 Traditional Breakfast in the Hidden Spots of Athens
Athens is a city full of magical contrast and strong culture and we would love to introduce you to this whilst we offer you traditional Greek breakfast foods. We will start our journey right in the centre of non touristic Athens in the fascinating, alternative area of Athinas Street where you will be surrounded by the sounds, sights and smells of the local food markets. These include meat, fish, spices and fruits and vegetables.
Whilst you enjoy Greek yoghurt, Greek coffee, Koulouri, Spanakopita and more we will introduce you to the markets and the local traders who work there. You will learn about the culture of Greek coffee and visit the oldest coffee shop in Athens where they still make it the traditional way – do you know how that is?
We will also show you the best places to shop for spices, olives and other Greek delicacies at local prices.
Book our early tour and leave the rest of the day free to explore Athens and visit the tavernas we recommend to you during the tour!
Breakfast tour 1-3 45e per person,
4-6 42 e per person, 7+ 40 e per person.
Child rate - all children under 13 35 e per person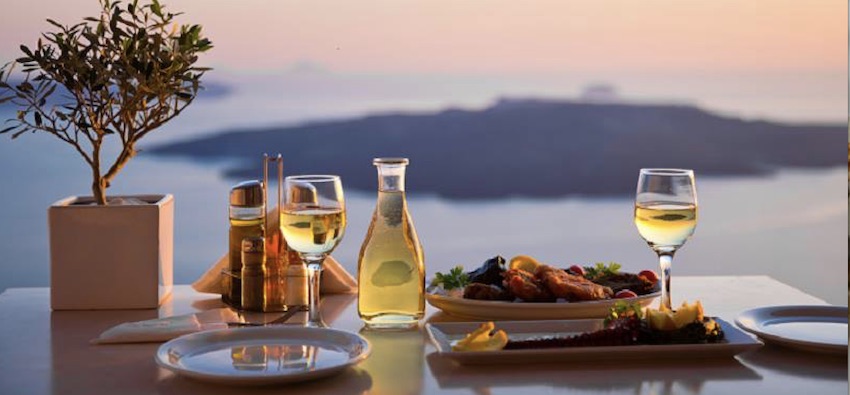 Santorini Food Tour
Join us on a walking tour through Fira and neighboring Firostefani for a journey through senses – breathtaking views, hidden alleyways, local eateries – all of that while exploring the secrets of Greek cuisine and filling your belly! Meze - Ntomatokeftedes - Souvlaki - Bougatsa: Does it all sound Greek to you? Have you been looking in a menu and having no idea what it is you are looking at? Or maybe you are a lover of Greek cuisine and have mastered your own version of moussaka, surpassing that of a Greek Grandma? Whichever the case, we can promise you an experience to remember - few things in the world beat nibbling on the most amazing fresh Greek food with a sip of local ouzo while getting lost in the deep blues of Aegean. And then there are all the great people you will meet on the way - starting with our own favorite, Aristotle - your guide. (Yes, that really is his name!) Click Here for More Information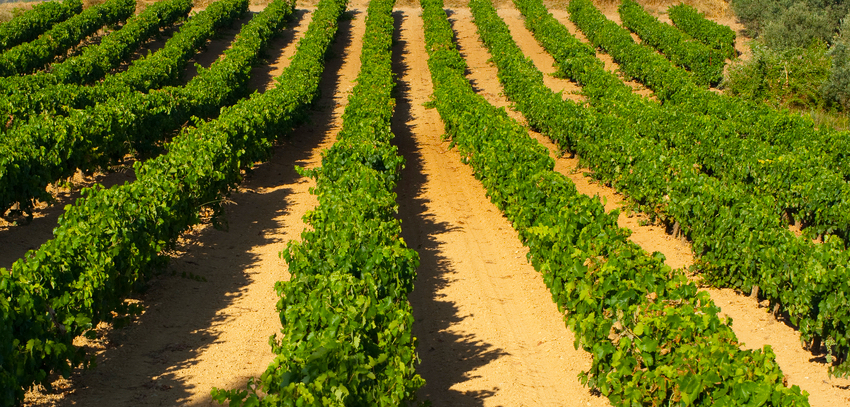 Wine Tour in Nemea

Live the ultimate wine experience! Join us for a full-day private tour that takes you step by step inside the world of Greek wine and its secrets. We will be visiting the architectural marvel that is the Corinth Canal and proceed to Nemea, the most famous wine region in Greece. There, a winery tour will expose you to the full wine production experience, from harvest to bottling. The fluent in English, driver/guide that we use for these tours, holds a degree in wines from the "Oenology and Technology of Alcohol Spirits" University of Athens with many years of experience in the wine business (production, tasting and selling) that included working in the wine and alcohol industry in San Francisco, California. To complete a wonderful day, you last stop will be the romantic coastal city of Nafplio, the first capital of Greece, where you will have the opportunity to enjoy a traditional lunch. Click Here for More Information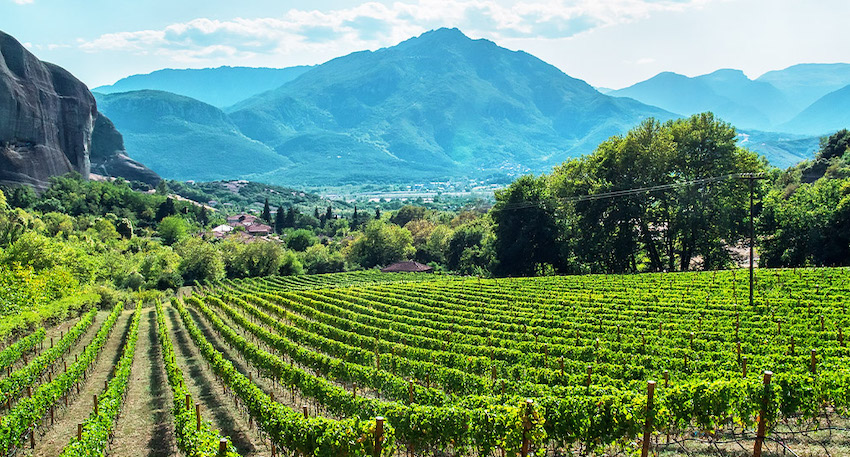 Olive Oil and Wine Tour
with George the Famous Taxi Driver
Our driver will meet you at your Athens accommodation and head out of the city towards Corinth by making first a short stop (about 20 minutes at the top of the Corinth Canal for photos and to enjoy the stunning view. We then proceed to the small village of Kaletzi for the olive grove tour and tasting (10am to 12pm). Next we visit nearby Nemea to visit the archaeological site and the famous vineyards. Wine tasting at one or two wineries. This will take around 3 hours. Lunch stop is flexible, depending on whether you had food with your wine tasting. It is now time to head back so you will be driven back the same route and arrive after about 1.5 hour at your Athens accommodation. Click Here for More Information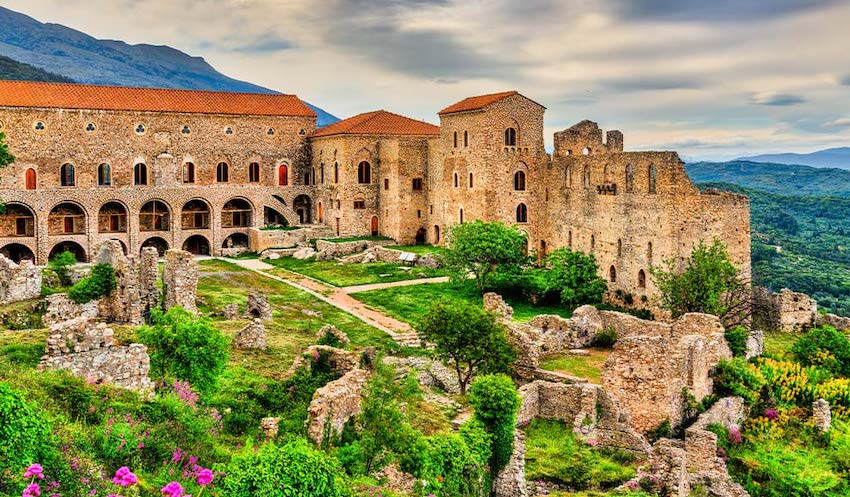 Mystras, Sparta and Olive Oil Museum
with George the Famous Taxi Driver
Our driver will meet you at your Athens accommodation and head out of the city towards Mystras (about 3-hour drive with a short stop).You will then spend about 3 hours to visit the castle. Lunch stop before paying tribute to the monument of Leonidas in the land of the mighty warriors,Sparta. Finally, you will visit (about 1.5 hours) the unique Museum of the olive and Greek olive oil. It is now time to head back so you will be driven back the same route and arrive after about 2 hours and 45 minuted at your Athens accommodation. Click Here for More Information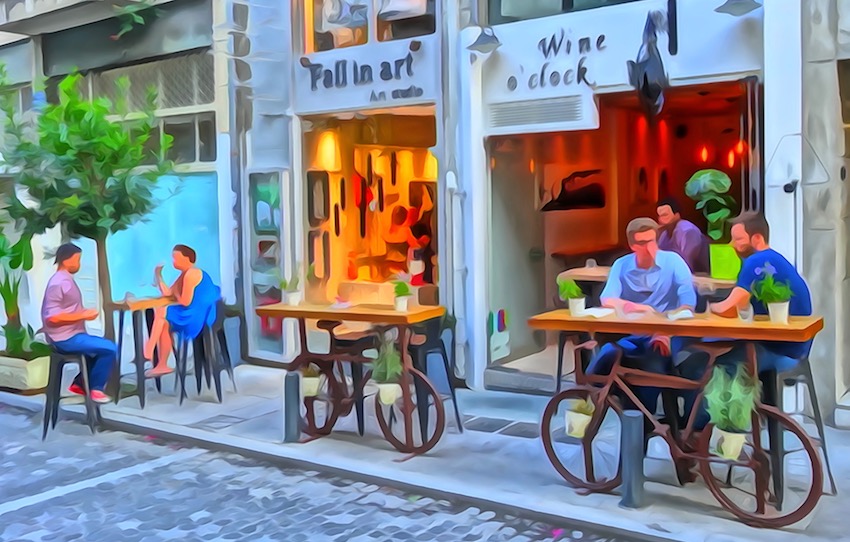 Athens by Night Food and Wine Tour
Are you looking for an extraordinary Greek culinary experience to tease your senses? Follow our foodie-expert guide on a quest to discover Athens by night, and experience exquisite Athenian delicacies. Enjoy the best views of Athens after dusk and explore sophisticated eateries to devour the finest of authentic Greek cuisine. And to top it all off? Wine tasting of indigenous Greek varieties! Click Here for more information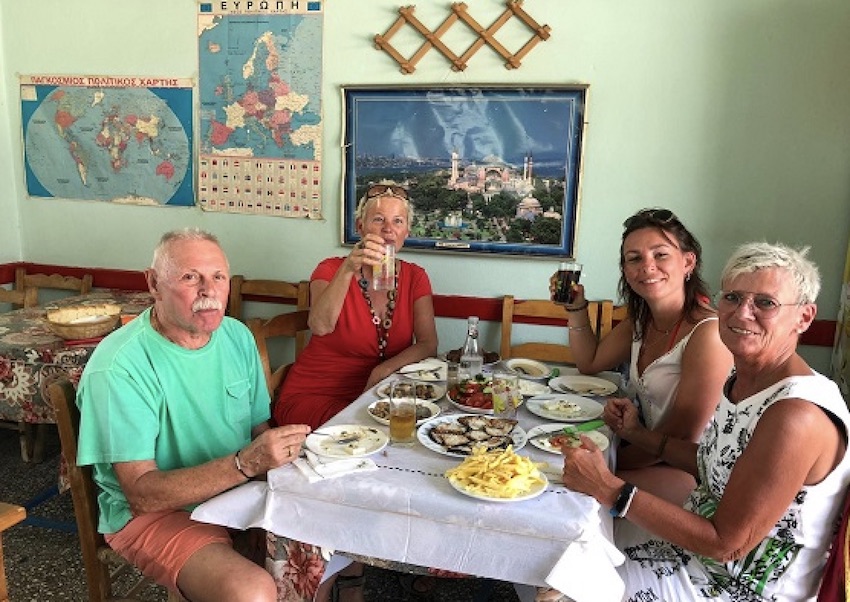 Lesvos Culinary Discovery
We start in the morning with coffee and a 'sweet spoon' in the mountain village of Stipsi. Afterwards we travel to the village of Pigi in Central Lesvos, where we are served a table full of 'mezes' in the local kafenion. Accompanied by a glass of ouzo, wine, beer or soft drink. To digest the first meal, we drive to a café in the hamlet of Agios Dimitrios near Agiasos for a drink. We continue our culinary journey through the pine forest, via the coast of the Bay of Kalloni to Eden or Bay, a zoo with restaurant. After a visit to the animals we will enjoy a second meal there. For a last drink or ice cream we drive to the farming village of Agia Paraskevi with its many terraces where the men spend their day. Along the way, guide Sigrid talks about the culinary customs on Lesvos and we collect the herbs, nuts and fruits of the season along the route.
Costs including transport, all meals and drinks:
2 people: 95 Euro
3 people: 80 Euro
4-6 people: 75 Euro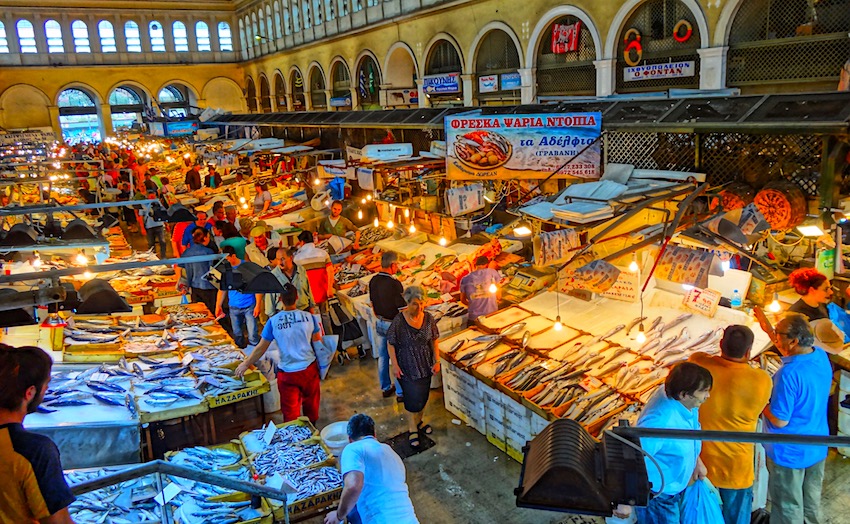 Athens Food Tour
Adults: 60€
Children: 30€
4hours
Indulge your inner foodie on this 4-hour gourmet tasting tour and sample the edible delights of Athens. Take to the streets for a walking tour of Athens' cafés, markets, delicatessens and street food haunts. Enjoy the undivided attention of your private food-expert guide as you uncover the secrets of Greek cuisine and learn more about the city's culinary heritage. Stop along the way to sample local treats like sweet donuts, Greek bread and regional cheeses, washed down with Greek wine and freshly brewed coffee. Contact Us for Booking or More Information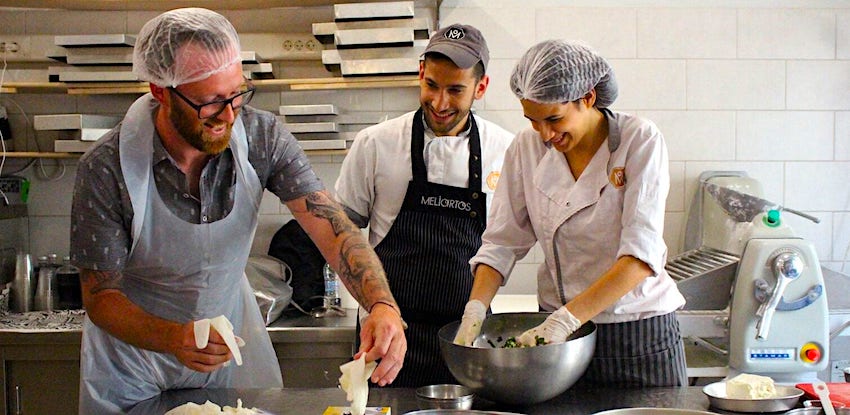 Athens Cooking Class and Dinner
Adults: 80€
Children: 40€
3.5 hours
Be taught how to make real Greek food and enjoy dinner with a view on this 3.5-hour cooking class in Athens. Head to a much-loved bakery in vibrant Monastiraki and learn how to make traditional Greek dishes, from tzatziki to spinach pie, with hands-on guidance from an experienced chef. Then, when the food is ready, head up to the roof to enjoy the fruits of your labor while you take in unbeatable views of the Acropolis of Athens. This small-group tour is limited to just eight participants. Tour starts at 17:30. Contact Us for Booking or More Information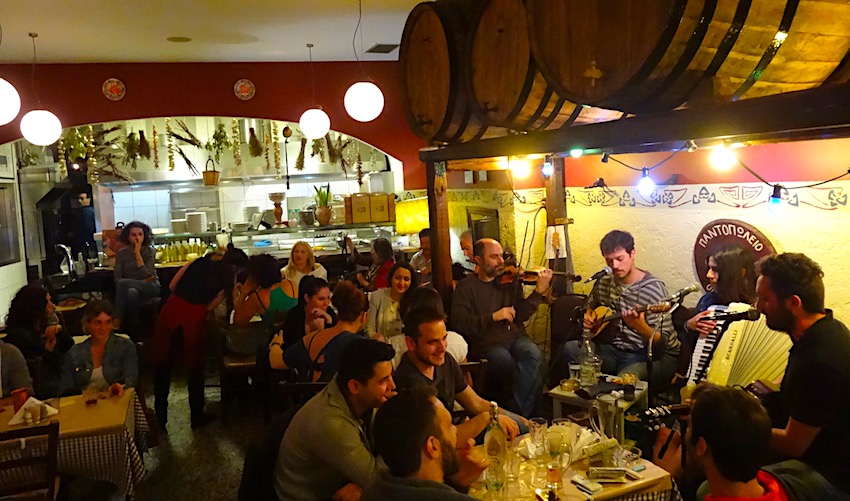 Athens By Night: Sightseeing, Spirits, and Food
Adults: 80€
Greet your guide at Monastiraki square and embark upon your epicurean exploration of the city. Immerse yourself in the electric atmosphere of downtown historic center of Athens, an atmospheric enclave replete with informal bars and food corners. Enjoy the famous Greek Boat pizza or so called Peinirli in the narrow streets of Monastiraki
Next, walk to one of the most funky neighborhoods, Psirri, where you will enjoy a glass of local variety wine combined with Greek charcuterie, cheeses plate, and local chutneys. Learn about the snack's interesting origin as you chat with your guide and feel the vibrant and unique atmosphere of Athens by night.
Continue further in the district of Psirri and walk by some significant wall art hidden in the atmospheric streets of the town. Walk towards to Monastiraki square where it is time to enjoy the famous local deserts like baklava or Greek fried donuts.
Visit one of the most famous local bars at the Karitsi square and enjoy a cocktail made from local herbs and spices. Finish you tour by admiring some of the most beautiful city buildings lit at night.
Contact Us for Booking or More Information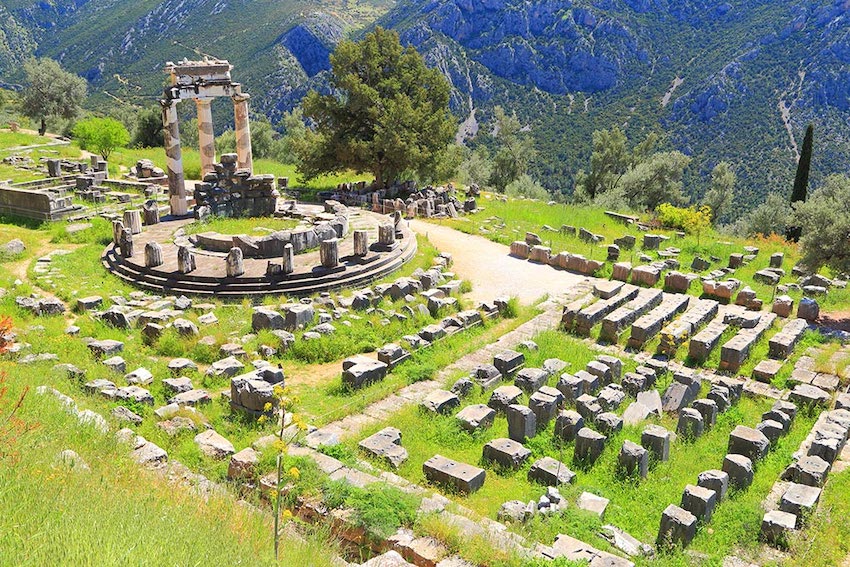 2 Days Delphi, Nemea and Wine Tour
with George the Famous Taxi Driver
Day1: Our driver will meet you at your Athens accommodation and head out of the city towards the ancient city of Corinth by making first a short stop at the top of the Corinth Canal for photos and to enjoy the stunning view. Next stop is the archeological sights of Nemea before visiting the famous local wineries and optionally do some wine tasting. Then driving though the stunning bridge of Rio-Antirio, you will make your way to the picturesque town of Nafpaktos for lunch break and to see the beautiful castle. The day does not end here as on the way to Delphi we will stop at the seaside village of Galaxidi for a quick walk around the town and a coffee. Finally, arrival at Delphi by early evening for our overnight.
Day 2: In the morning (before the crowds) you will visit the sacred archeological sight of Delphi and the museum. Afterwards we will make a stop at Arachova village (very famous winter destination) for a quick walk before we make our way to the byzantine monastery of Osios Loukas. It is time you make your lunch stop and there is no greater place in this area than the traditional village of Livadeia (lunch at the famous Krya fountain). Finally you can choose either to visit the new museum of Theves or Cheronia/Plataea battlefields.Arrival in Athens by early evening.

Olive Grove Tour & Tasting!
Sessions run Thursdays to Sundays, April to October
You're invited! Join us in our olive garden, surrounded by nature, tradition and culture! This is a fun, relaxing and informative tour about olive oil starting with a casual walk across our family olive grove and the olive trees that produce the rare Manaki variety. We will talk about the olive tree, the olive oil lifecycle, culture, history, myths and legends of olive oil! At the end of our walk, an olive oil tasting awaits you, led by an Olive Oil Sommelier; an experience that will change the way you see olive oil and will introduce you to a new world!
A unique experience just one hour from Athens! 
Whether you're a city dweller or an adventurer, this tasting is made for you!

Epirus Adventures
Epirus Adventures has a number of culinary experiences for those visiting the beautiful northwest corner of Greece. On the Ioannina Food, Wine and Culture Tour you'll discover the local Epirus food, tsipouro, and wine made by local producers and learn the history of Ioannina. The Preveza Food and Culture Tour is similar but with a focus on seafood in this beautiful coastal town. There is also the Metsovo Food Wine and Culture Tour in one of the most culinary rich mountain towns in Greece. In Zagoria they feature Truffle Hunting and Cooking, Farm Tour and Cheese-making, and Bread Baking Class. For more of their walking and nature tours see their website.