Villas, Homes, Apartments, Self-Catering, Holiday Rentals
and Air BnB Style Accommodations


Click on the links or photos below to find suggested villas, homes, apartments and self-catering accommodation (Air BnB style) in the part of Greece you want to visit. To find similar properties all over Greece use the Villas and Homes in Greece Search or you can contact Matt if you need assistance. You can also use Matt's Create-an-itinerary form to get help.

If you are not having success finding what you want and are finding this process confusing or exhausting you can use this form to contact Matt and he will help you find something if you are serious about renting a house or villa in Greece. You can also find hotels with the help of Fantasy Travel by using Matt's Create-an-itinerary form which is recommended if you are going to other islands too. You can find more villas and holiday homes on Matt's Best Hotels in Greece
About Renting Villas, Homes and Apartments in Greece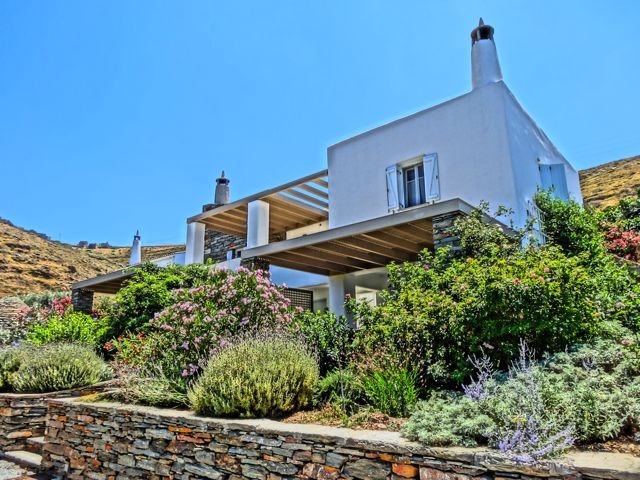 Villas are in fashion all over the world so of course people e-mail me all the time asking for villas. But what is a villa and is it right for you? Many people think that renting a villa for their family will give them a feeling of home in a far away place. Maybe it will. But it may also isolate you in a far away place, often far away from the archaeological sites, beaches, shops and restaurants. A family of four with a couple teens or younger children may not be that happy in a villa because they key to happiness with kids is not a home-away-from-home or mom cooking pancakes in the morning. The key to happiness for children is other children and renting a villa is like moving into a new neighborhood. It takes time to make friends, more time than you probably have. You are better off staying in a beach hotel with a swimming pool where your children can meet others.
The same can be said for older people too. People who rent villas often end up eating their meals at home and watching videos or movies on Greek TV, or talking to their friends on Facebook instead of being out and about in Greece where every meal is a social experience and an opportunity to make friends.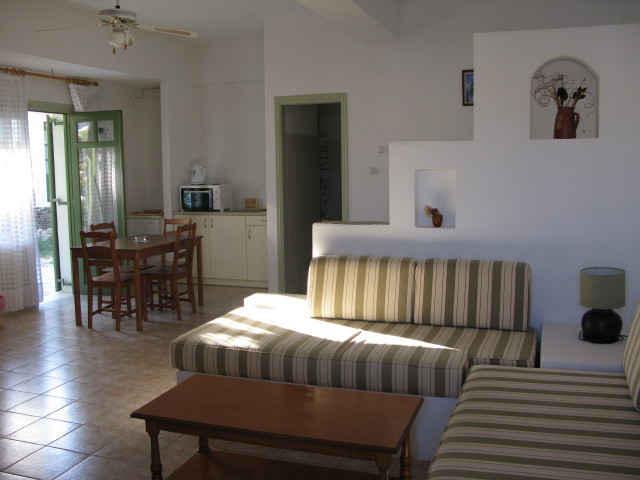 For those who want a compromise the best option are hotels that have separate free-standing apartments with kitchens. Any Greek travel agency can find one for you and probably at a reasonable price, maybe more reasonable than a villa. But what do we mean by the word villa? Many people like the word because they can tell their friends they rented a villa on a Greek island and that makes them more interesting. But really you are just renting somebody's house because they are not using it and it may be no more of a villa than your own home. Many villas in Greece are rented illegally which is why you don't see a lot of them on a travel agency website. It is sort of the black market of the travel industry. Others are real villas, often represented by villa rental companies, some based in Greece and some nothing more than a website where you can automatically book your dream villa and then figure out how you are going to get to it and where you are going to stay for the nights you don't have it.
The benefits of booking your "villa" or "villa-like" hotel with a travel agency are obvious. You have someone who will also take care of getting you there, booking hotels for those nights when you are not in the villa, usually the night you arrive and depart from Athens, not to mention ferry tickets, rental cars and tours. For those wo want to put the fate of their holiday in the capable hands of a travel agency Fantasy Travel, Dolphin Hellas, and Aegean Thesaurus Travel all have a few villas, apartments and self-catering hotels and apartments(as the British call them). For those who prefer to shop on their own, they can go to my Greek Hotel Search Page and use the serach options to find houses, villas and self catering apartments.
For the rest of you that I have not talked you out of renting a villa I present a few that I recommend on the links to Athens and the other parts of Greece above.
If you are not having success finding what you want and are finding this process confusing or exhausting you can use this form to contact Matt and he will help you find something if your are serious about renting a house or villa in Greece. You can also find hotels with the help of Fantasy Travel by using Matt's Create-an-itinerary form which is recommended if you are going to other islands too. You can find more villas and holiday homes on Matt's Best Hotels in Greece
Help Support Matt's Greece Guides
Do you enjoy using my site? Have you found it entertaining as well as useful? If so please show your appreciation by booking hotels through the travel agencies and the links found on my Hotels of Greece site. The small commission I make on the bookings enable me to keep working and in most cases you won't find them any cheaper by searching elsewhere. You can find hotels in Greece by location, price, whether or not it has a swimming pool, and see photos and reviews by using this link to booking.com which also contributes to my website when you book. If you are appreciative of all the free information you get on my websites you can also send a donation through Paypal or Venmo
Join Matt Barrett's Greece Travel Guides Group on Facebook for comments, photos and other fun stuff. If you enjoy this website please share it with your friends on Facebook and other social media.