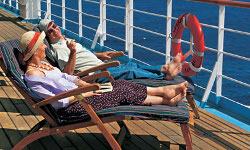 The Ancient Greek saying of "Healthy mind in a healthy body" becomes even more valuable in today's stressful world. Pamper yourself at our specially designed Spa centres onboard and enjoy a vast array of massages and beauty treatments from around the world and in the hands of experts from as far as the exotic Bali! Sense the aromas of essential oils and the tranquillity of the gentle music while cruising to places of unique beauty and culture.
Work out at our fitness centres while enjoying the endless blue views of the Mediterranean. Top class hairdressing and styling services are always at your disposal for stunning appearances and nights to remember!
Filoxenia, the Greek word for hospitality in essence means becoming friends with your guest. This is our core philosophy at Louis Cruises. The smile with which you will be greeted by our crew is genuine and so is their concern for your comfort. The friendly atmosphere on board breaks the boundaries of formality and makes you feel at home while sailing to life enriching destinations.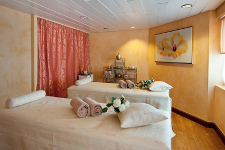 With a variety of activities and fun things to do on board, your days and nights on a Louis cruise ship can be as active or as quiet as you please. Designed to cater for the needs of our cosmopolitan passengers, on board activities make for some truly fun times. Alternatively, you can relax on one of our decks, read a book from our library or simply enjoy a refreshing drink by the pool. However you decide to spend your time on board, we will always be there to attend to your every need and ensure you enjoy a memorable holiday with Louis Cruises.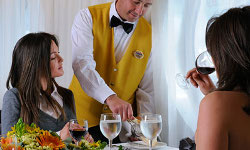 Louis Cruises has associated its name with the excellent Mediterranean cuisine. The Mediterranean culinary experience on board offers sumptuous choices that cater for the most demanding tastes!
From breakfast to midnight snacks, our chefs and well-trained staff serve local specialties, an exquisite variety of Mediterranean dishes as well as flavours and aromas from around the world. Using fresh ingredients, all food is prepared on board with care, strict hygiene standards and one goal: mouth-watering results to enable you not only to experience the Med but also to taste it!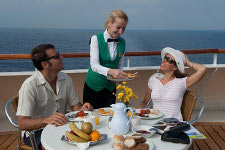 Louis Cruises is amongst the few companies that still prepare everything from fresh produce. "We just think it is important for our guests to smell and taste bread straight out of the oven" says Yves Sou, our Corporate Executive Chef. "I grew up in Paris, says Yves, and the aroma of the local bakery in my neighbourhood is still vivid in my mind". We bake twice-a-day over 6 types of bread and 10 pastries not to mention cakes, rolls, sticks and all that composes a truly fresh breakfast and mouth-watering meals. During the course of your cruise you can experience more than 20 types of breads from 6 countries and over 35 Danishes.
Our sauces, dressings, soups, pâtés, terrines, jams as well as all desserts are freshly prepared onboard. Our philosophy not to buy anything ready-made has one goal: A taste of the good old days with a sophisticated touch.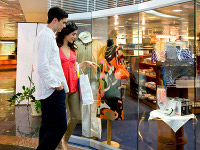 Looking to buy a gift? Want to treat yourself? Cruise Value and Duty Free shopping on board is a pleasure when sailing with Louis Cruises. International brands, designer products, the latest perfumes, logo items, travel necessities, jewellery, sweets and chocolates, souvenirs are just a few of what can be found aboard. Affordable prices, frequent promotions, special offers and fashion shows are only a few of the reasons why shopping on board is certainly enticing, fun but also a wise choice since we strive to satisfy your every need and wish while combining quality with value for money!
After a breathtaking sunset at sea, the lights come on and the atmosphere on board changes completely! While the night is still young, you can enjoy the company of newfound friends in our cosy and laid-back piano bars or experience the excitement of the casinos on board. The variety shows in our show lounges offer a cosmopolitan flair of entertainment while the buzzing nightclubs offer unique party moments at sea. Alternatively, there is nothing more romantic than a cooling cocktail while enjoying the moonlight's reflection on the water or a stroll on the open decks. Whatever your choice of entertainment is, every night is memorable when cruising with Louis Cruises.