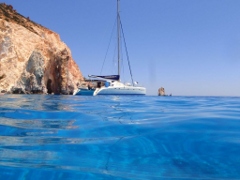 Sailing across the coastline, leaving behind us Milos bay, we will pass by the traditional fishing villages of Skinopi, Klima, Areti and Fourkovouni with the colourful little houses - called "Sirmata"- built by the sea side. Then, we will visit Arkoudes, a complex of lava rocks, which takes its name by its characteristic shape, a bear.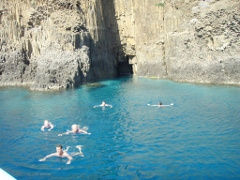 Opening the sails, we are heading to the impressive Cape Vani and our first stop for swimming, the natural bay of Kalogries, ideal for diving from the catamaran in its transparent waters. Continuing on the West side of the island, we will reach Agios Ioannis beach for a second swim. This bay is actually 3 little beaches one after the other.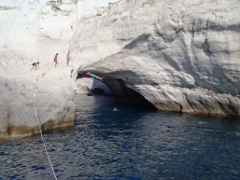 Follows the stunning cave of Sikia, where we will enjoy the view and you will be able to see the characteristic hole in its roof as well as the entrance of the cave.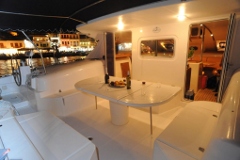 Our next stop for swimming will be the famous old pirates bay of Kleftiko with its numerous caves, its white rocks and transparent waters ! Our crew will guide you to the best caves to swim and snorkel to. You will discover a wonder of colours and rock formations underwater. A well-deserved lunch will be served after your swim, cooked by our crew on board and full of amazing surprises !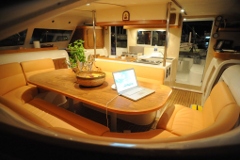 After Kleftiko, we will head back to Adamas port, but not without one last stop for a swim at Agios Dimitrios beach, a small and quiet bay built around the little church of the same name.
Tour starts at 09:45 from Adamas dock and ends at approx. 19:00, at the marina of Adamas.
Prices 2022
01/05/2022 - 30/10/2022
Price per Adult:
175
Euro

Departure days
01/05/2022 – 30/10/2022
MON
TUE
WED
THU
FRI
SAT
SUN
Price Includes: boat fees, captain fees, fuel, snacks, lunch with traditional dishes, local house wine and beverages.
Price does NOT include: transportation from accommodation to Adamas dock & back.
Clients must hold a valid passport or identity card for the on board registration
Embarkation starts 30 minutes prior the beginning of the tour
Boat tours are weather permitting