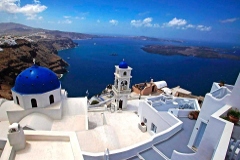 This tour will first take you to the Mesa Gonia village, known as the Ghost Village of the island, as it was abandoned because of the destruction caused by the earthquake in 1956. Nowadays many people have moved back but the notorious nickname has still remained. We will wander around the village to see the traditional architecture and visit the Byzantine church of Panagia Episkopi.
After Mesa Gonia the tour continues to the village of Pyrgos, known for its typical Cycladic architecture, Byzantine churches and the Venetian Castle. Situated in one of the highest points of the island, Pyrgos offers amazing views of the north-west part of Santorini. Our last stop is the breathtaking Oia village known worldwide for its remarkable sunsets. Oia is famous for being the number one place of gathering artists, who are inspired by the beauty of the landscape as the sun sets on the horizon.
COLLECTION POINTS : Kamari - Fira - Perissa
TOUR DURATION : 14:00 - sunset.
Prices 2018
45 Euro per Person

Departure days
10/04/2018 – 14/10/2018
MON
TUE
WED
THU
FRI
SAT
SUN
Price Includes : Tour Leader Fee.
Please note that, for this tour, we offer advance bookings for a minimum of 6 persons, or as a supplementary service, only to clients booking accommodation and/or other services through our agency.