This is the tour for those who have a limited time on Santorini and want to see all the major attractions of this beautiful Cycladic island. In one day we take you to the most interesting places on the island.
First, we visit Prophet Elias Monastery where the view is breathtaking. The picturesque village of Pyrgos is close by for you to capture some magnificent photos.
After the bus tour of Santorini we will proceed to the port, where you'll embark for a boat trip to the volcano. With a 1 hour stop there is enough time to walk to the crater and observe the smoke with traces of sulphur that is emitted from a number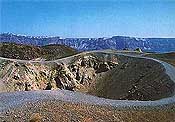 of spots. Elsewhere you'll find that the ground and stones are too hot to touch.
Leaving the volcano behind, the boat now sails to the Hot Springs, where you can swim in the green sulphur waters (the stop lasts about 30 min). From there the boat will sail to the nearby island of Thirassia,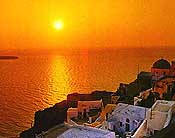 where you can swim at the beach next to the port or visit the traditional village Manolas by the winding steps, either on foot or by riding a donkey.
The boat tour continues on to the village of Oia, where you'll stay and admire the sunset, one of the most spectacular sights in the Cyclades or take a walk around the village.
After the sunset you'll return to Fira Town.
COLLECTION POINTS : Kamari - Fira - Perissa
TOUR DURATION : :08:15 - sunset.
Prices 2019
57 Euro per Person

Departure days
04/05/2019 – 20/10/2019
MON
TUE
WED
THU
FRI
SAT
SUN
Price Includes : Tour leader fee
Price DOES NOT Include : Entrance fees to the Volcano
Please note that, for this tour, we offer advance bookings for a minimum of 6 persons, or as a supplementary service, only to clients booking accommodation and/or other services through our agency.