..................


By AURELIA, Illustrated by Bill Papas
---
TRAVEL INFORMATION
---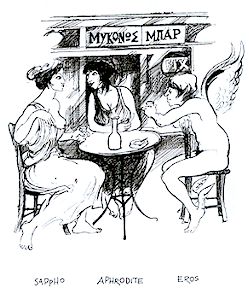 This novel may well represent a new genre. With a captivating love story of a man and a woman from different cultures, A Lone Red Apple combines excellent, useful travel information on Greece, Mykonos, Delos, and Greenwich, England.



Discover in Greece
Why seasoned travelers to the islands prefer to leave from the port of Rafina rather than Piraeus.
Where to find last minute travel bargains from London to Greece
"Big Delos," a deserted island where you can swim nude, toast your body on a sandy beach, and be totally alone if you plan it right.
Alefkandra, the "Little Venice" of Greece.
The sacred island of Delos where, by law, no one is allowed to be born or to die.
How to island hop.
How to find the geographical center of the Cyclades.
Where the "New Agers" say the cradle of civilization is located.
Does the Spinx belong to Egypt?
The very spot where Apollo was born under a palm tree.
Why shepherds from Mykonos take their sheep and goats to sea to graze.
Where you can have the best "spaghetti and lobster" in the Cyclades
Ios, every college students' choice for the undisputed "party island of Greece."
The lost continent of Atlantis.
Stone paths that will lead you to the top of the Sacred Mountain.
Isis Temple, atop the Sacred Mountain, for the best views of the Cyclades.
The entrance to the ancient cave of Hercules.
The bar in "Little Venice" where the Zeibekiko is performed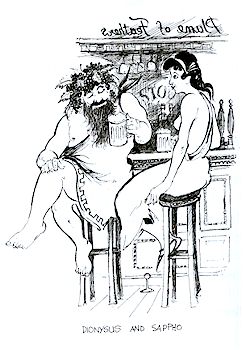 Discover in Greenwich, England
Where east and west meet at the center of the universe.
The line where you can straddle both hemispheres, with one foot in the east and the other in the west.
The annual flower show where you are sure to see the Queen Mother.
London's oldest royal park where Wat Tyler led the Peasant's Revolt in 1381.
The site of an alleged, ancient burial ground during the Black Deaths.
Why England has thousands of acres of land where no one is permitted to build.
George, the dog who never holds a grudge.
Argos, the dog who rightfully has a grudge against his master.
Greenwich's best pub.
How you can travel underwater to get to Paris.
How Londoners get cheap beer.
The most popular type of entertainment in English pubs
A pub that has been in Greenwich since 1695
The Isle of Dogs.
The Cutty Sark and the ghosts of sailors past.

---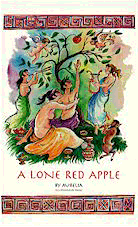 A perfect read on your trip to Greece, or just for a great get-away. Click here to BUY THE BOOK.


---

Click here to Travel to Greece with an excerpt from A LONE RED APPLE
---

---

---

---

---

---

---

---

IOS
THE PARTY ISLAND

The Island of Ios lies between Naxos and Santorini in the southeastern Cyclades and is one of the most popular destinations for tourists from throughout Europe. Not all tourists, however, come to this island to visit the alleged resting place of Homer.