..................


By AURELIA, Illustrated by Bill Papas
READERS REVIEWS
---

"JUST AWESOME!!!" - Danny Daniels

"KUDOS!!! Your book is awesome. I have always been interested in Greek mythology and now that I will be visiting Greece, your book is the perfect preview. I have highlighted several landmarks and 'must sees.'"


---

Sappho and the Greek Isles - Judy Buswick

"This is an ambitious first novel with an engaging cast of characters and insight into local customs in both Greenwich, England, and Mykonos, Greece. The dialogue is sometimes stiff, but the story pulls you along and the mixture of modern reality and Greek mythology make for an interesting read. Illustrations by Bill Papas contribute a whimsical touch and add to the sense that this novel is meant to be light reading, not lofty literature."


---

"A GRECIAN TREAT" - James Stevens, Atlanta

A Lone Red Apple is a perfect combination of whimsy and poetry, with beautiful descriptions of Greece wrapped around a lovely, light romance. Aurelia has captured the magic of both ancient Greece and modern Mykonos in this delightful first novel. More please.


---

"PERFECT TO READ ON A TRIP TO GREEK ISLANDS MYKONOS AND DELOS" - Reviewer from Chicago, Ill.

"I love to read a novel about a place I am visiting and this was PERFECT for Mykonos and Delos. It combined a love story, Greek mythology, local sites, information about the people, their feelings towards tourists and island living all in one. Definitely a 'lite' read, but perfect for my trip! I would love to know of any other books that are perfect to read on other European vacations!!"


---

"A DELIGHTFUL READ!!" - Rivka Nachoma

"A Lone Red Apple is a delightful read, bringing a unique and wonderful twist to traditional Greek mythology by blending it into modern day Mykonos."


---

"READERS EVERYWHERE WILL LOVE IT!!! - Catherine Temma Davidson, Author, The Priest Fainted

I almost gobbled it all in one sitting. Aurelia has truly made her characters—the lovers and the gods—come to life. It really is a love letter to Greece—an uncomplicated, generous, and warm-hearted love which I almost envy. It is sensual, humorous, believable, and for me, the poetry interwoven was a great bonus. And the surprise ending was great!! Readers will love it!!"


---

"A LOVE STORY OF UNFORGETTABLE POIGNANCY" - Albert C. Labriola, Distinguished University Professor of English, Duquesne University.

This novel ranks with the work of many contemporary masters of fiction. Using an academic setting, including classroom experience and a field trip to Greece to launch her work, Aurelia develops a love story of unforgettable poignancy, a love story that unfolds in a manner that evokes classical history and mythology at the very heart of Western Civilization. This constant interplay of past and present imparts to the novel a timelessness and relevance rarely achieved in literary art."


---

---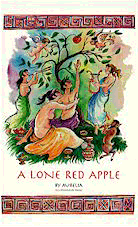 A perfect read on your trip to Greece, or just for a great get-away. Click here to BUY THE BOOK.



Click here to Travel to Greece with an excerpt from A LONE RED APPLE
---
---

---

---

---

---

---

---

---