..................


By AURELIA, Illustrated by Bill Papas
---
PLACES IN THE BOOK
---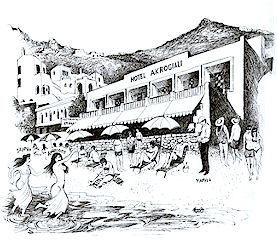 MYKONOS, GREECE

"Aurelia has captured the magic of both ancient Greece and modern Mykonos in this delightful first novel"

The main plot of A Lone Red Apple focuses on the lovers, Matthew and Elena, but subplots feature the threat of commercialization on the quaint island of Mykonos

Their tale unravels on windmill-sprinkled Mykonos, where the variety of Greek culture, including the distinctive family structure, food, poetry, dances, religious rituals, and battle between environmental concerns and the economic boom of tourism are amply portrayed.


---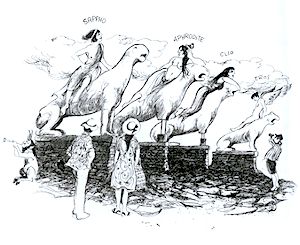 DELOS, GREECE

The first inhabitants on the island of Delos date back to the 3rd millenium B.C. Because of its strategic position, Delos was coveted as a control point for the Agean. The Athenians gained control from the Persians in the 5th century B.C. and kept their treasury on the island of Delos. They decreed that no one could be born or die on the island, effectively ridding the island of its local population! Because of its legendary roots as the birthplace of Apollo and Artemis, Delos became one of the most important religious centers in Greece during the Hellenistic period and one of the most thriving centers for commerce.


---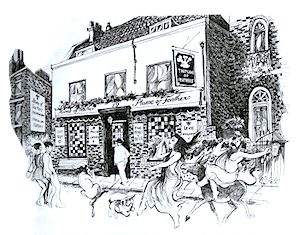 GREENWICH, ENGLAND

Aurelia said in a phone interview that she set the British parts of her novel in Greenwich, England, in part because she and her husband John live there during the summer months.

The Plume of Feathers pub, which figures in a scene in the book, is a real life watering hole the couple enjoys because of its friendly staff and vivacious owner, Susan Rose.

Nestling alongside Greenwich's historic Royal Park and under the eye of the Royal Observatory, The Plume of Feathers pub lies 0.0000001 degrees (50 feet) east of the prime meridian.


---
A Lone Red Apple is full of practical Travel and Tourist Information

---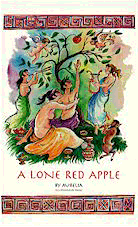 A perfect read on your trip to Greece, or just for a great get-away. Click here to BUY THE BOOK.


---

Click here to Travel to Greece with an excerpt from A LONE RED APPLE
---

---

---

---

---

---

---