Crete is a very large island with much to see and this page will give you an overview so you can decide which parts you want to visit. There is a short description of towns, beaches, archaeological sites and different areas of Crete, with links for more detailed information.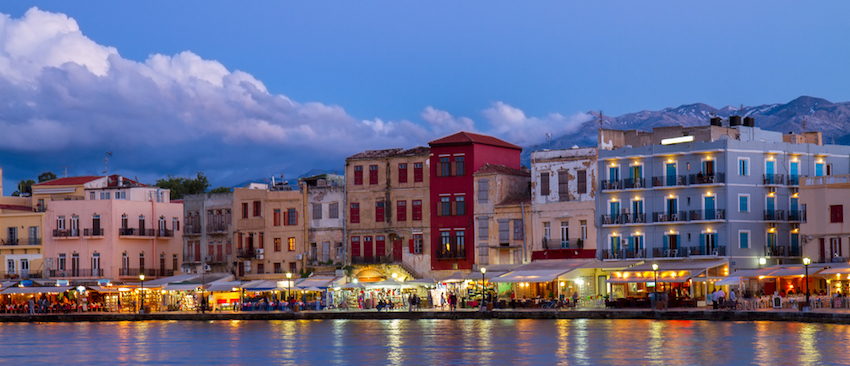 Chania
Chania and Western Crete

Though Chania is a modern city the interior is a labyrinth of old Venetian houses that you can wander around with only an occasional reminder of the twentieth century. The port is actually in Souda Bay, but there are buses and taxis available to take you right into the city. The bus will leave you at the market place near the old town. There are hotels all over the city but the ones overlooking the old harbor are probably where you want to be even if the nightlife below can get a little noisy. If you don't see yourself as being one of the people making the noise then you may want to find a quieter place further back or ask your travel agent what she suggests. For families with young children I recommend the Hotel Ammos on the beach, just 4 kilometers outside of town. You can actually walk into Chania in 45 minutes going from beach to beach (the owner Nikos does this every day for exercise) or see my Chania Hotels page.
As for what to do in Chania it's a case of passing the day until the sun goes down and the lights of the cafes, restaurants and bars around the harbor come on and life begins. Like most harbor towns the expensive cafes have taken the best spots on the waterfront and the cheaper and more traditional restaurants are on the fringes and the back streets. There are also some interesting non-traditional restaurants scattered around the old town which you will come across in your wanderings. Most of the bars, discos and nightclubs are located in the inner harbor. For traditional Greek music in a traditional Greek setting try the Café Kriti at 22 Kalergon, the next street up parallel to the inner harbor. See Chania Restaurants.


Balos
The beaches are to the west and being close to the city they are usually if not crowded, well populated. Anyway, for adventurous travelers to be in Crete without a car is like being in Manhattan without a wallet. Your days should be spent exploring the island. If you came to lay out on the beach and watch people you should be at Elounda beach or Ag Nik. For some excursions in Chania and around western Crete read Nikos Tsepetis Chania Crete Excursions which includes secluded beaches, traditional villages, spectacular gorges and places to visit and to avoid. The best and most spectacular beaches are west of Chania, as far west as you can go to Balos, Falasarna and Elafonissi. See my Chania Beaches page. You can search Chania Hotels and use the maps to find hotels, rooms and villas on any of these beaches. I have an entire website devoted to Chania and West Crete. See Matt's Chania Guide


Rethymnon
Rethymnon
Another option is the city of Rethymnon which is a modern city of 4 story apartment buildings and hotels stretched along a long sandy beach. There is a traditional inner harbor of Venetian buildings, similar to the harbor in Chania, with cafes and fish tavernas below an impressive Venetian castle called the Fortezza. Most of the tourist activity and nightlife is located on the road behind the town beach, but some of the best beaches on the island are a short distance away to the west where development is not as advanced as it is toward Heraklion. There are long stretches of sand and you may find yourself alone, but be aware that there can be strong currents and there are no lifeguards.If you are in Greece in the off-season, particularly during Apokreas, Greece's Carnival season, Rethymnon is one of the best the best places to be. Search Hotels in Rethymnon. See Diane Farr Louis' Guide to Rethymno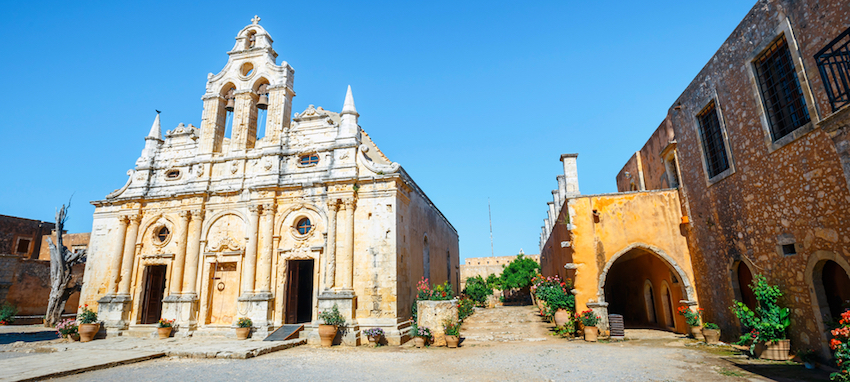 The Arkadiou Monastery between Rethymnon and Iraklion is a 5th century holy site that became a symbol of Cretan resistance on November 9th 1866 when hundreds of refugees and revolutionaries chose death over surrender to the Turks and blew themselves to pieces with the gunpowder that was being stored there by the Cretan Revolutionaries. The monastery was rebuilt again and is well worth the visit.
The Samaria Gorge and Southwestern Crete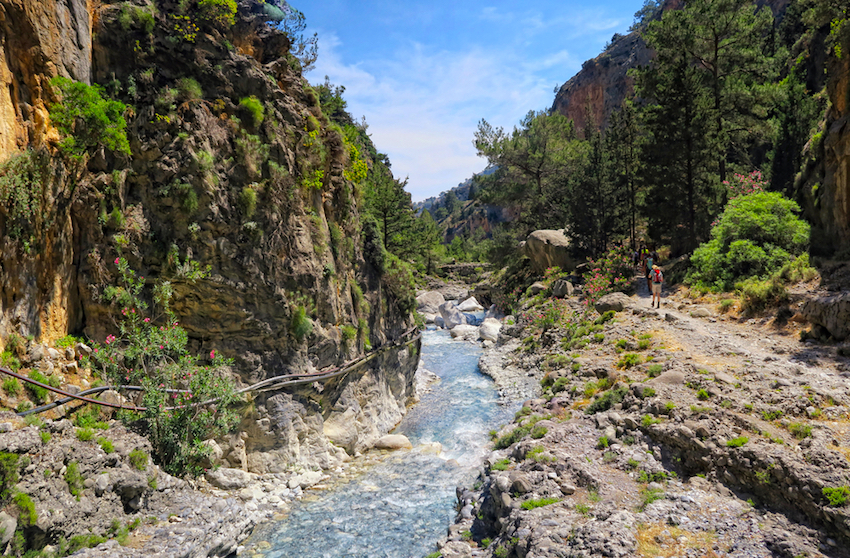 To go to Crete without going through the Samaria Gorge would be a missed opportunity for an incredible experience, providing you are physically strong enough to walk downhill for 15 kilometers. This part of the trip to Crete should be done before renting a car unless you are prepared to walk 15 kilometers back uphill to retrieve it. There are buses from Chania to Omalos and to give yourself plenty of time I suggest taking the first one. When you get to Omalos find the Xiloskala, or Wooden Staircase and begin your journey down. Eventually you reach a stream and begin your trek towards the sea, passing on your way the deserted village of Sammaria and a variety of wildflowers and terrains. The gorge ends at the village of Agia Roumeli where there are restaurants, cafes and a boat that will take you to Chora Sfakion where you can find a room and spend the night or catch a bus back to Chania or Rethymnon. There are also less frequent boats from Agia Roumeli to Souyia and Paleo Hora. You can also arrange a taxi from Heraklion or arrange a taxi from Chania to drop you off at the top and pick you up in Sfakion or Paliohora.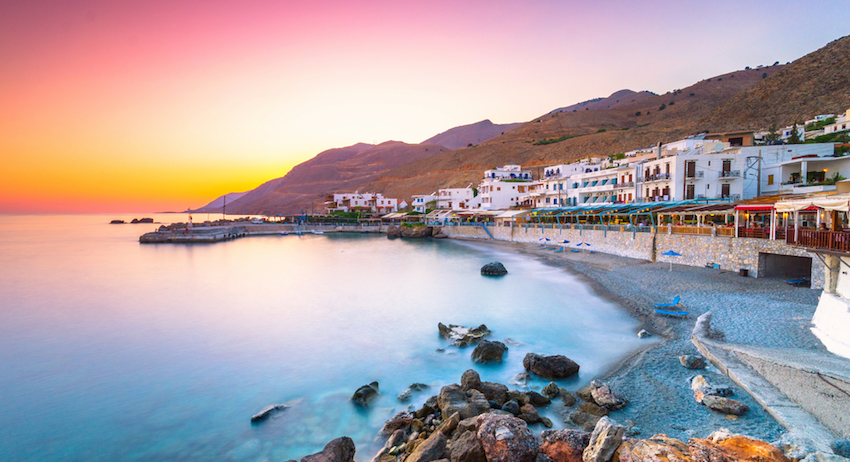 Hora Sfakion
It is the general consensus that Chora Sfakion is the best place to stay on the southern coast of Crete. In the summer there are plenty of tourists here, that is to say if you are looking for a place where you will be one of a handful of foreigners then you won't find it here. But the town has retained it's Greek character and most of the foreigners who go there and promote it have helped to keep it that way. There are good restaurants with authentic Greek and Cretan food and a balance of tourist activities to go with the traditional activities. The area around Chora Sfakion is some of the most beautiful in Crete due to the inaccessibility of the area in the past. Now getting here is easy and fun. Search Hora Sfakion Hotels.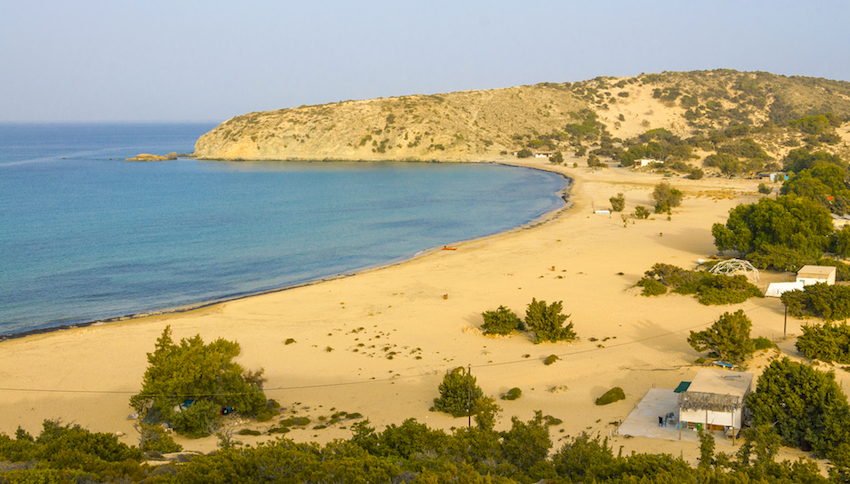 Sarakiniko Beach, Gavdos Island
The island of Gavdos off the coast of Paleochora is your best bet for escaping the throngs during the summer months. This does not mean you will be alone there, but chances are anyone you see will be a lot like you. There is something funny about an island full of people seeking solitude. There is not much there besides a few beaches, tavernas and rooms and it's inaccessibility makes it unlikely to be developed. There are rooms for rent which can be arranged from Paleochora and even Booking.com has a Gavdos page.
There is lots more info on the Gorge and Sfakiaon my Sfakia Page.
Plakias, Agia Galini and Matala

Plakias
These coastal villages have a lot in common. At one time they were remote villages with beautiful beaches, inexpensive rooms and small tavernas. Now they are built up with hotels, tour buses arriving by the minute, tourist shops and wild nightlife. But this is the case with lots of places in Greece and particularly Crete and if you are here in the summer you may as well enjoy it. Anyway we are not all traveling monks and recluses looking for olive groves on empty beaches where we can contemplate the success and failures of our lives. Some of us like to party at night and lay out on the beach and watch girls and guys in their bathing suits by day and these beaches are perfectly suitable. Plakias is 2 kilometers of tanned (and often lobster red), young,(and old) bodies.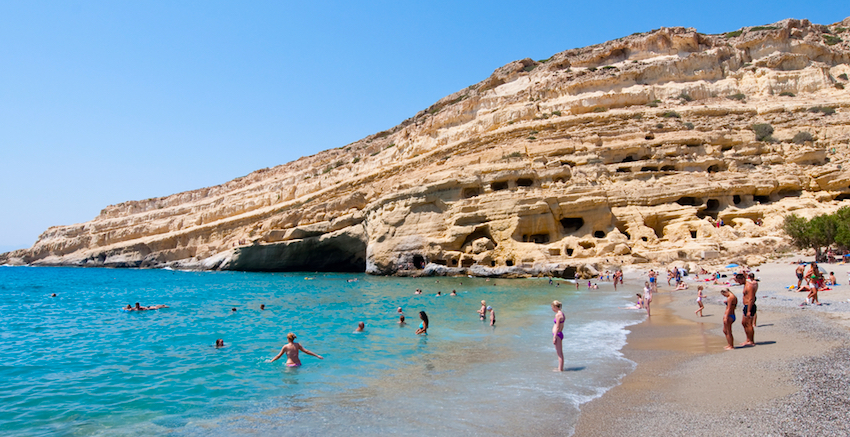 Matala
Matala is a coved beach with the hippy caves made famous by life magazine in the late sixties and thus changed forever. In the winter of 1973 I stayed in these caves until one day we were awakened by policemen led by priests who evicted us because they are actually mausoleums. In fact several of the caves had skeletons in the carved out beds we were sleeping in.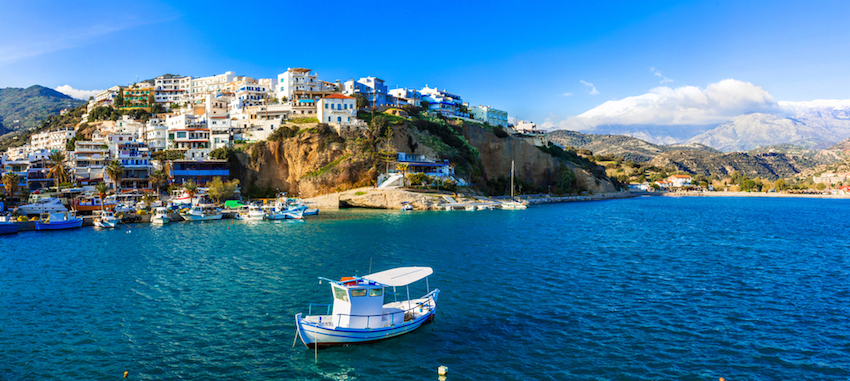 Agia Galini
Agia Galini is a full blown tourist resort however there are three good reasons to recommend going there. The sun is usually shining there, the people are nice, and I can't remember the third. That being said, any of these places is fine during the off-season and being the southernmost part of Greece, they can be a little warmer in the winter. In fact I swam on New Years day in Matala in 1974. When I emerged from the water, Germans dressed in winter overcoats, scarves and hats gathered around to have their picture taken with me. In the summer these southern beach towns are busy with tourists and with Cretans on holiday but if you book early you can find pretty much whatever you want. They all have seafood restaurants, waterfront cafes, tourist shops and hotels, apartments and villas which you can find by searching Crete hotels and typing in the name of the town.
Agios Nikolaos and Elounda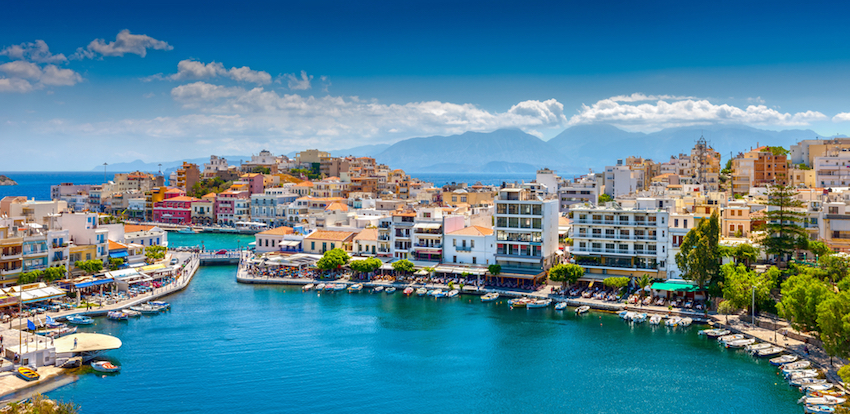 Agios Nikolaos
The town center of Agios Nikolaos is a bottomless lake, which is actually not a lake because it is connected to the sea and is not bottomless because it does not go all the way to the other side of the earth. But it is deep enough for the retreating Germans to dump all their tanks during WW2, and nobody has seen them since. Now the descendants of those same Germans can frolic in the sea and in the pubs with the descendants of the British people they fought, while being served by the descendants of the farmers who defended their land with muskets against those tanks at the bottom of the bottomless lake. Indeed 'Ag Nik' as the British tourists call it, is an interesting town, somewhat less so in the summer when it is so packed with tourists that the local buses can barely get through the streets. But in the last few years it has become more of a place for couples and families and the lager-louts have moved on to who knows where? Maybe Tunisia. Search Hotels in Agios Nikoloas.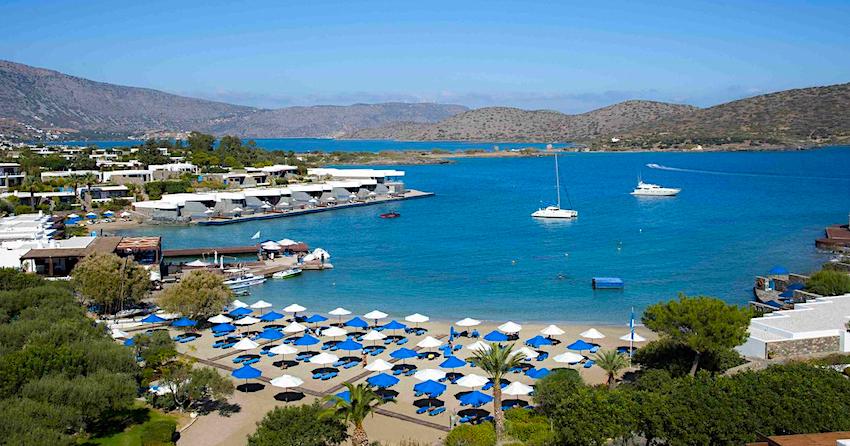 Elounda Beach Hotel and Villas
Nearby is the Elounda Beach Resort Hotel, one of the most well known and successful resorts in the country and from what I have been told is notbad as resorts go. The hotel includes villas, apartments, suites, restaurants, shops and a private beach just outside of the coastal town of Elounda, which also has lots of hotels. See Elounda Hotels. There are enough sandy coves and beaches along the coast so you can get away from the crowds if you want though you probably won't find solitude unless you head inland. When people tell you that Crete has changed this is what they mean. Coastal fishing villages now have miles of hotels, restaurants, cafes and bars but if that is what you have come to Greece for then it is not a problem. If you did not come to Greece to see tourists then I don't know what to tell you except to come to this part of Crete in the off-season or if you are here in the summer head for the hills. See also Agios Nikolaos by Richard Clark (Not that Richard Clark) and Elounda by Julie Ryan.
Walk With Donkeys!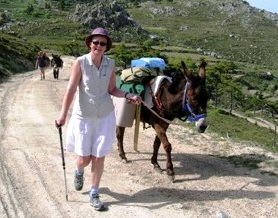 30 minutes south of Agios Nikolaos and 15 minutes from Irepetra is the Walk With Donkeys Farm. Its a sort of old age home for donkeys who have gotten too old to be useful as work animals or whose owners did not need them anymore. They have given the donkeys a home in return for some lighter labor, like walks in the forest carrying children instead of bags of cement and bricks. They have a large family of happy donkeys and offer a number of different walks for children and adults or you can just come and visit them. When I was a child and my father told us we were moving to Greece and my brothers and sister were skeptical he promised that he would buy us a donkey. It worked and though he never did get us a donkey we ended up being quite happy in Greece. If you are coming to Greece with your children a trip to the donkey farm might be just the carrot you need. For more information you can e-mail them at alistair@walkwithdonkeys.com or visit their website at www.walkwithdonkeys.com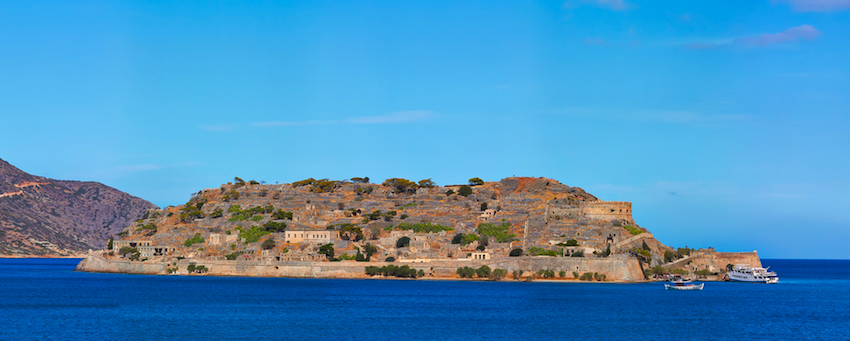 The island of Spinalonga near Elounda was not always an island. The Venetians cut through the isthmus that connected it to the rest of Crete to make the fortress more impregnable in 1526. It was the last Venetian fortress to be captured by the Turks in 1715 and it was the last refuge of the Turks during the Cretan revolt of 1878. From 1903 to 1957 it was a leper colony, one of the last in Europe. (My wife's aunt worked there). Now deserted it is a popular tourist attraction and people come for the day on excursion boats from Plaka, Elounda and Agios Nikolaos to swim on several beaches on the island.
Malia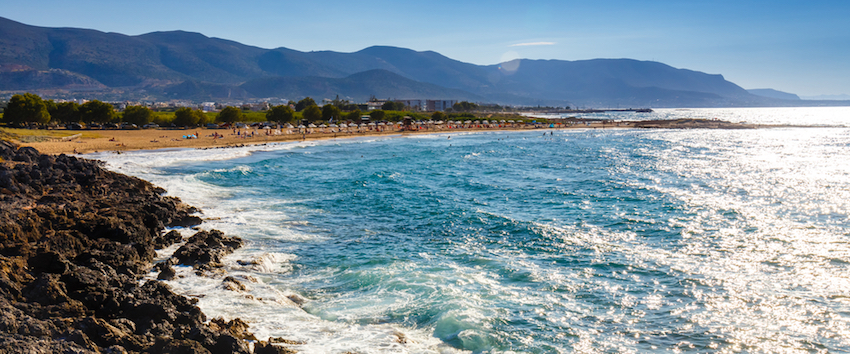 Between Agios Nikolaos and Iraklion is the famous Malia which represents everything I dislike about the tourist industry in Greece. Once a small coastal village with an interesting Minoan archeological site, it is now an overwhelming, chaotic collection of tourist shops, supermarkets, fast food restaurants, moped rental and travel agencies where you can't walk down the street without being accosted by someone trying to get your attention so they can drag you into their restaurant. The once quiet beach is now packed with tourists who could not give a damn where they are as long as it is sunny and there is a beach and a pub nearby. There are plenty of pubs. Discos too, and they compete with each other by playing their music loudly to draw customers in. You have to wonder how anyone gets any sleep, but generally these people did not come for sleep. Nor did they come for Greece. They come because someone told them to come or because everyone else does, and the package tours rake in the pounds and shillings. Unfortunately this is what many of the coastal towns in Crete aspire to and even as far as Palekastro farmers have begun planting apartment buildings in their fields for the anticipated hordes. But before anyone accuses me of being unsympathetic to the needs of the people of Malia to make a living (well, get rich actually), or for the common people to have a place where they can go and spend their holidays unhindered by local culture and customs I have to admit that Malia does serve a purpose, much in the same way that prisons do by getting hoodlums off the streets. Working class people with simple needs should have a place in Greece to call their own. Not everybody cares about tradition or is enamoured with the culture of Crete. Some people just want to get hot, wet and drunk. They want to go to a foreign land that is not too foreign and they want it to be cheap. Places like Malia are perfect for them, but if you are reading this it probably is not for you. Then again you may love it. Greece is funny that way. One person's heaven can be another's hell. You can also find people and places you love in a town that you hated at first sight. Search Hotels in Malia.
Heraklion

Heraklion is Crete's main city and has a population of over 120,000. Most people arrive here and base themselves in one of the hotels within or on the outskirts of the city. There is an international airport and an enormous harbor full of ferries and cruise ships and the Palace of Knossos is one of the few places that visitors to Crete have ever really heard of if they were paying attention in ancient history class. The city is built on the side of a hill overlooking the port and it's a climb to the center of town with a fully loaded backpack and worse if your suitcase does not have wheels. Mercifully there are taxis below and the bus station is also in the port area where you can leave your bags and wander around in the town above until you know where you are going.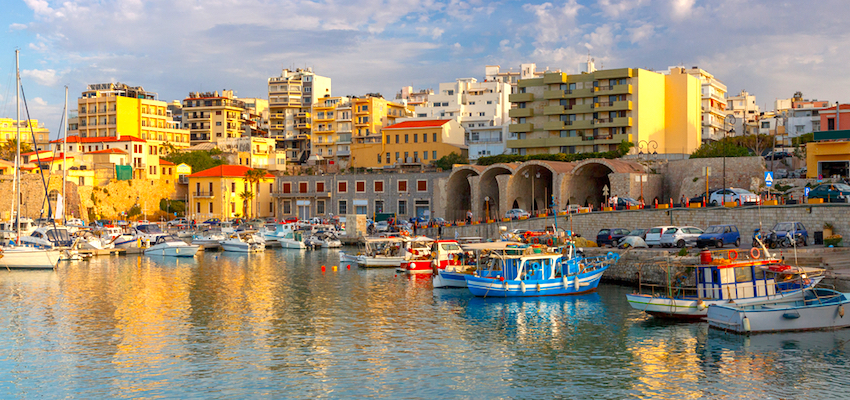 Like most cities there are local buses, traffic lights, plenty of cars and trucks, hotels, shops, restaurants, fast food and a terrific central market in the center of town. The square of Elefteriou Venizelou is a pedestrian area full of cafes and restaurants and if you wander through the tiny back streets that are mostly closed to automobile traffic you will come across some interesting shops. In the restored Venetian church of Agios Markos they hold concerts in the summertime. The archeological museum is the best on Crete and contains Minoan relics from all over the island. There is a huge fortress in the harbor built by Venetians that protected the town from invasion. Throughout the city there are examples of Venetian architecture and it is a pleasure to explore, especially in the off-season when the temperatures are cooler and they crowds have dwindled. Keep in mind if you are coming here in the summer that Iraklion is not a quaint little island town. It is a city. With traffic and blaring horns and concrete. You may be happier staying on the beach outside of town. Or if the only reason you are staying in Iraklion is to visit Knossos, which will take you all of two hours, you may be happier staying in Chania or Rethymnon and visiting Iraklion on a day trip or on your way to or from the ferry or the airport. For those planning to combine Crete and Santorini the schedules change every year but usually the only daily connection to Santorini is from Iraklion and only in the summer. You can Search Heraklion Hotels and use the map to find somewhere on the beach nearby if your idea of a summer holiday is not staying in the middle of a busy city.
Knossos: Ancient Minoan Crete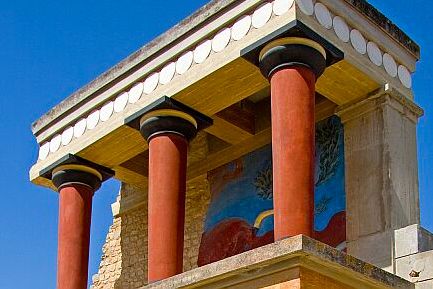 The Palace of Knossos, discovered by Sir Arthur Evans in 1894, is a few kilometers south of Iraklion and easily accessible by bus or taxi, but should be seen as early as possible in the summer, or visited in the off-season. The ruins are extensive and fascinating and should be enjoyed at a time when you are not suffering from the heat or trampled by the crowds since it is one of the busiest sites in Greece and the single most important reason that tourists come to Iraklion, if not all of Crete. Among the ruins, beautiful frescos and giant pithoi are the remains of the world's first flush toilet. Knossos is one of the few archaeological sites that has been restored in the Art Deco and Art Nouveau style due to the restoration of the frescoes by Piet de Jong. In many guidebooks de Jong's restoration work is said to be "not without controversy" but few mention what that controversy is. The restoration of the frescoes brought to light the question of how much is a true representation of the ancient artist (sculpturer, architect etc) and how much is the imagination of the person doing the restoration and his culture and age. When ancient sites, frescoes and art that are in scattered fragments are reassembled, there is plenty of room for personal interpretation based on how much remains of the original work. Archaeology is a new and evolving science and it may take awhile before they get it totally right and people are still wrestling with this question. Regardless, Knossos is certainly worth a visit, in fact if you visit Crete without going there your friends who have gone to Crete may look at you strangely. See my Guide to Knossos
Nikos Kazantzakis: Greece's Greatest Modern Writer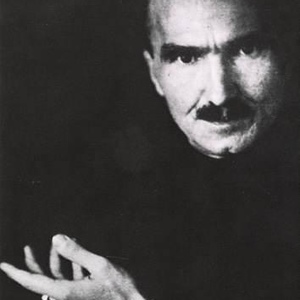 A very special place for me is the grave of the writer Nikos Kazantzakis who wrote among other things Zorba the Greek, The Last temptation of Christ, Freedom or Death, Report to Greco and the Modern Sequel to the Odyssey. He has also written numerous travel books and philosophical works. Colin Wilson wrote that if Kazantzakis were Russian he would be considered one of the world's greatest writers. Well he wrote that in the early sixties when few people knew of him and since then Kazantzakis has become one of the world's greatest writers by the millions of people who have read his books in translation. If you have not read it already, Zorba makes wonderful complimentary reading for your visit to Crete. Kazantzakis grave is on the south wall of the city.
His epitaph is "I hope for nothing, I fear nothing, I am free"
Though a national hero, Kazantzakis was excommunicated by the Greek church which is why his grave is on the wall and not in a cemetery.
Sitia and Eastern Crete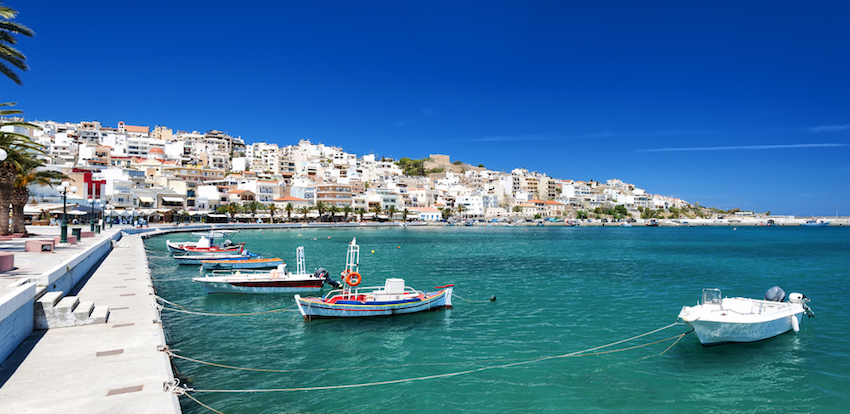 Sitia
The main road that runs between Agia Nikolaos and Sitia is one of the most dramatic in Crete, winding through olive groves on the steep sides of mountains where around every bend is a spectacular view. Sitia with a population of 8500 people, is the easternmost city on Crete and perhaps the least developed. Sitia has been inhabited since the Minoan period. At Petra, to the east of the town, a section of ancient settlement has been excavated. There is a waterfront with restaurants and cafes, a large public beach, and an archeological museum which holds many of the findings from Palekastro. Above the city is a Venetian castle where they have concerts, in fact we were lucky enough to see Ross Daley, an Irishman who single-handedly has popularized traditional Cretan music, on one of his rare visits to the far end of the island. There is a weekly boat that goes to Karpathos and Rhodes and returns to stop in Santorini, Ios, Sikinos, Folegandros, Milos and Sifnos before going back to Pireaus in case you are interested in a long and scenic return (If it still stops here). Outside the city is one of the wonders of nature, a beach that attracts plastic from all over the Aegean. By some miracle of sea currents, this tiny beach seems to be Mecca for every bit of plastic that has been tossed or blown into the sea and though they try to clean it up continuously, it is a losing battle. On the bright side though, it is a beautiful site at sunset when the light reflects off every piece of plastic and engulfs the beach in a prism of beautiful colors like sparkling jewels. Recently the headlands next to the beach have been bought and developed into a large resort community and one must assume they have a plan to challenge nature and restore the beach to all it's pristine glory. I for one will be disappointed at the loss of the plastic beach but I suppose there are benefits to having clean seas.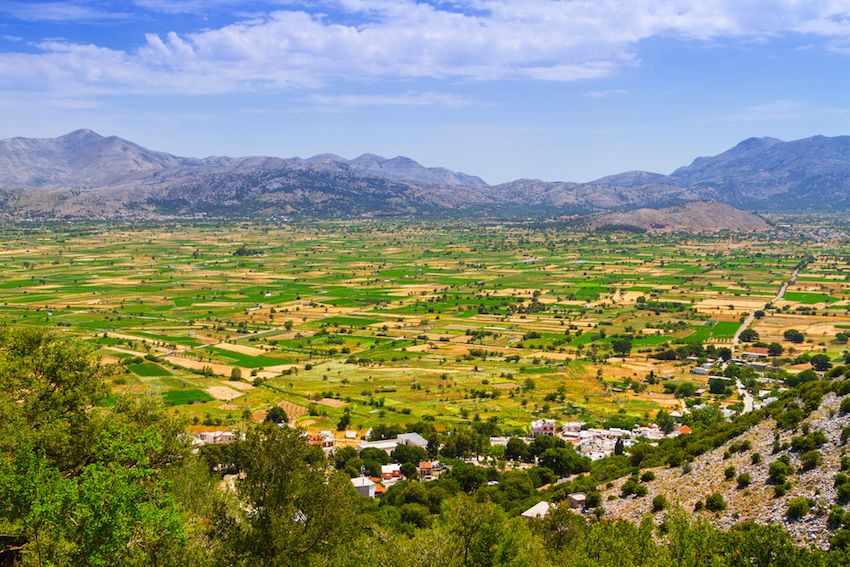 Valley of the Windmills
The Lasithi Plateau is famous for its windmills, used for irrigation, which once numbered around 10,000. Today there are only abiout 5000 still standing and most of them are not working so it is not as impressive as it was when I visited in 1970. But it is till beautiful and worth going to.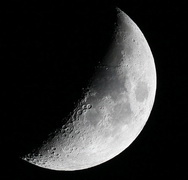 In the small mountain town of Agios Stefanos above the coastal town of Makriyialos, a unique place worth visiting is the Sasteria Observatory run by Belgian astronomist Filip Feys and his artist partner Chantel Debrabande. With Astronomy and Art Workshops in the day and star and planet-gazing at night through 4 state-of-the-art telescopes in the clear southern Crete skies they even organize nature walks in the surrounding hills and mountains every Wednesday. Every Sunday, the artistic activities are combined with a Cretan inspired lunch in the villages of Agios Stéfanos. At night you will see the sky as never before and even be able to take photos. In the day you can see aspects of the sun you never knew existed. For those who are staying in Ag Nikolaos or Ierapetra a trip to the observatory is a wonderful diversion from the typical holiday activities.
Paleokastro and Vai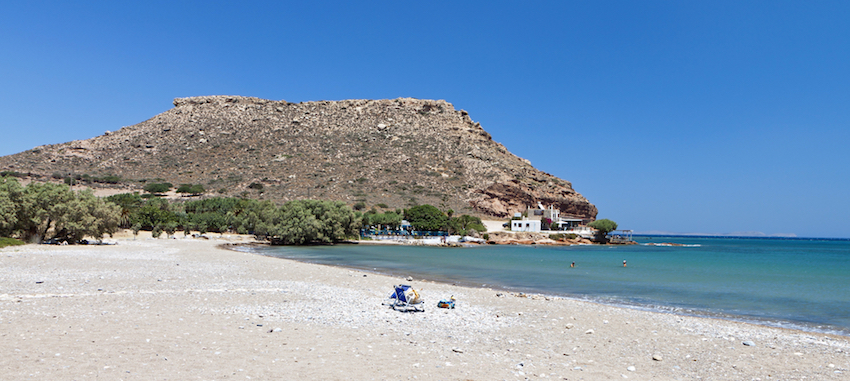 Paleokastro
The town of Paleokastro or PK as the archeologists call it, is an agricultural town which has opened it's arms to embrace the mass tourism which has not quite arrived yet. There are plenty of working class tavernas in the central part of town and plenty of working class people to fill them at night. The town is slowly being built up as apartment buildings and hotels have sprung from the ruins of the traditional stone family dwellings which have been allowed to collapse in favor of commerce. Still it's not a bad place to stay. There are some nice beaches, miles of olive groves, hills and mountains and a wind that while some might call it maddening, I found it entertaining as it made it's way through every crack and orifice in our hotel to create a symphony of whistles and banging. There are a couple nice tavernas by the old customs house on the beach and there you can find many of the archeologists from the Minoan site nearby, mostly Americans and British. Search Hotels in Paleokastro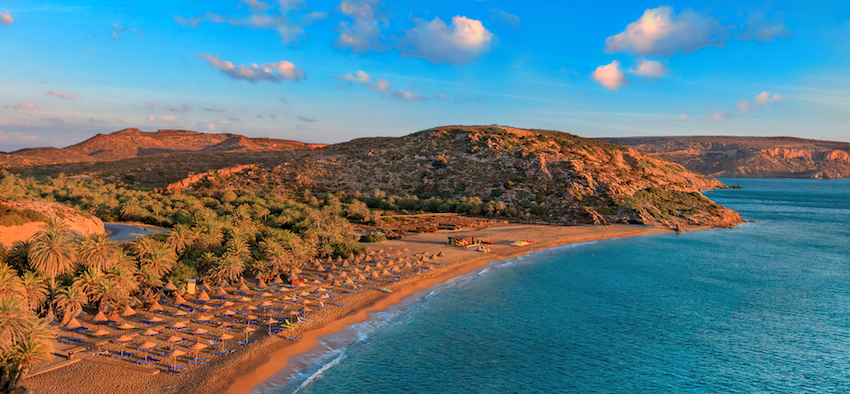 Vai Beach
The beach at Vai is very commercial with tour buses from all over the island, fast food, tavernas and corn on the cob sold in the massive parking lot. But Vai deserves the attention. Not only is it one of the nicest beaches in Greece, but it is also the only natural palm tree forest in Europe. Or at least that is what the guidebooks said and I had no reason to disbelieve them until I got an e-mail from Raul who told me that his town of Elche in Spain has over half a million palm trees! They have also won a world Heritage pride because of their palm tree forests. So that just goes to show you that you can't trust everything you read in a guidebook. So let's just say that Vai is the only palm tree forest in Southeastern Europe. There are also a couple huge pelicans that wander around terrorizing sunbathers by jumping on their backs as they sleep or sunbathe in the rented beach chairs.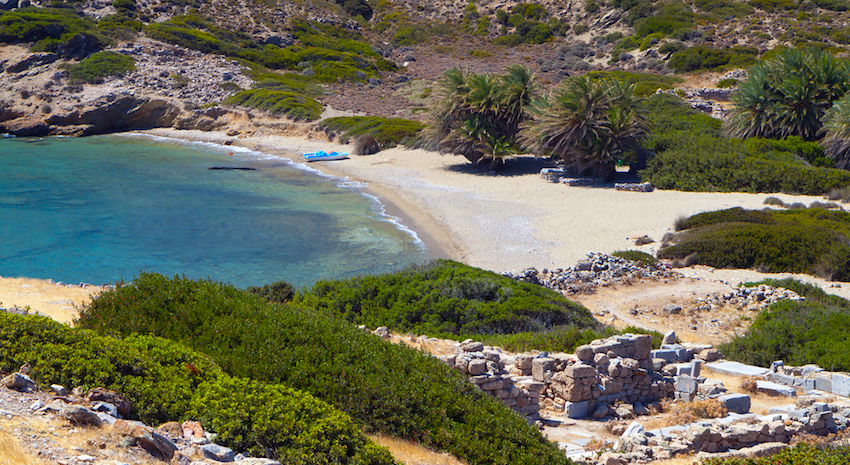 Itanos
Further north are the small beaches of Itanos where there are some classical ruins and a retired professor who lives in a hut and entertains dignitaries with grilled fish and raki. The day we were there we just missed Constantine Mitsotakis, the former Prime Minister.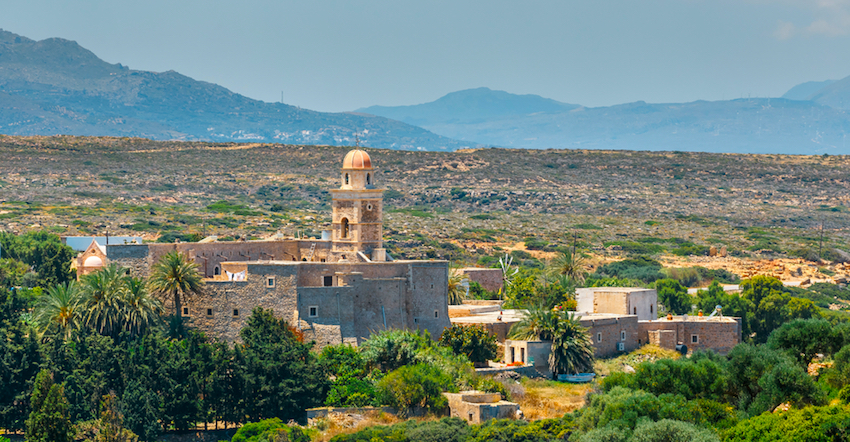 Nearby is the Toplou Monastery with it's high walls and beautiful gardens, worth a visit, especially if you are interested in Byzantine icons. The icon of The Theotokos the Immaculate is one of the most holy in all of Greece and some of the works of the well known iconographer Ioannis Kornaros are on display. The monastery also took part in the uprising of 1866 and in the resistance against the German occupation when a wireless transmitter was placed here.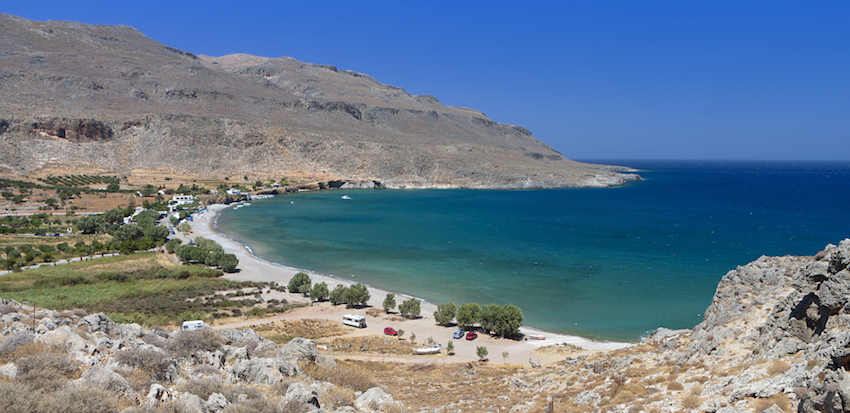 Kato Zakro
The eastern most tip of Crete, the beach town of Kato Zakro is at the bottom of an enormous gorge and the journey from upper Zakro will test your courage while it amazes you. The mountain road is suspended above the sea and as exciting as the ride is, the village is a welcome sight. The gorge is known as the 'Valley of the Dead' and contains ancient tombs and an impressive Minoan site. There are tavernas along the beach with fresh fish and there are rooms to rent though they can get scarce in the mid summer. Beyond Zakro the pavement ends but if you are adventurous don't let that stop you. There are some amazing secluded beaches and tiny isolated tavernas that you can have all to yourself where the food is inexpensive and excellent. Search Hotels in Zakros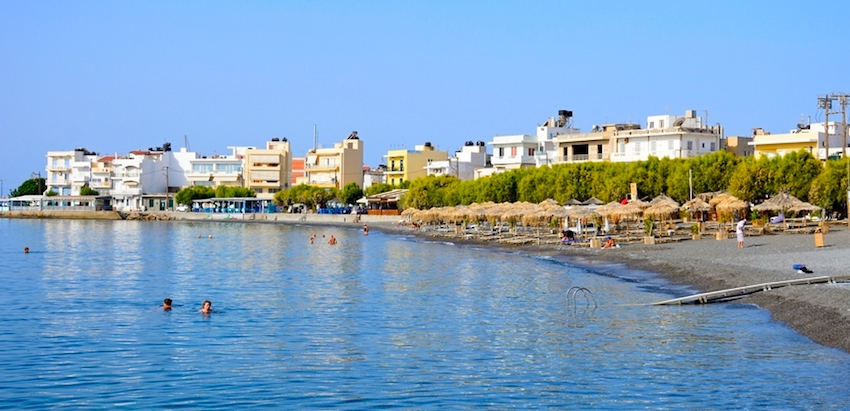 Ierapetra is the southernmost city in Europe depending on whether or not you consider Cyprus as Europe. Even if you do it is close and it is the largest town on the south coast of Crete and if you go any further south you will be in Africa. Ierepetra has been an important town throughout history from Minoan times and Classical Greek and Roman times when it was known as Hierapytna. The Fortress of Kales, built in the early years of Venetian rule and strengthened by Francesco Morosini in 1626 is a remnant of this period, although local myth says it was built by the Genoese pirate Pescatore in 1212. In 1798 Napoleon stayed with a local family after the Battle of the Pyramids in Egypt. The house where he stayed can still be seen. Ierapetra was chosen among 500 South European destinations by the QualityCoast International Certification Program of EUCC as one of the 50 most attractive tourist destinations for visitors interested in cultural heritage, environment and sustainability. In 2012 Ierapetra was one of the only three destinations in Greece that won the Gold QualityCoast award, ranking 2nd among the TOP 100 chosen European destinations. There are at least a dozen beautiful beaches within 10 miles of the town as well as right in town. In the movie Zorba the Greek the famous scene in which Anthony Quinn dances the Sirtaki on the beach was shot on Ierapetra Beach. There are restaurants, cafes, shops, hotels and rooms and if you have come this far you should congratulate yourself. My friend Godfrey Cheshire spent a year here in the seventies and has been dreaming of returning ever since. Search Hotels in Ierepetra
See also Eastern Crete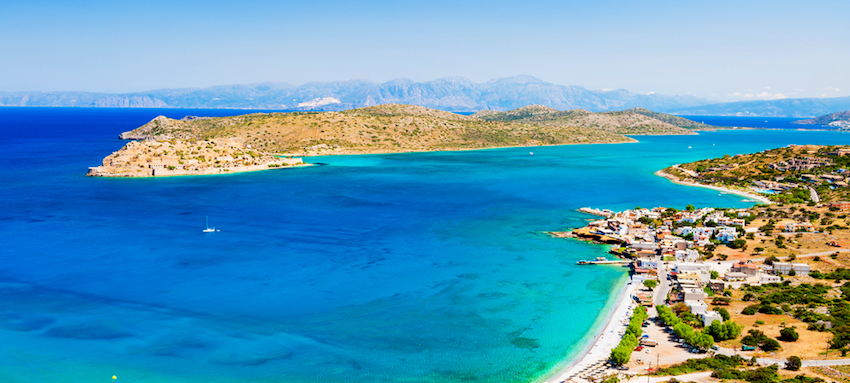 The Best Way to See Crete
Crete is a big island that can appeal to a variety of people in different ways. I don't discourage anyone from going there whether you are a sun-worshiping party animal or a cultural minded, eco tourist looking for the land of Zorba. But if you are the latter my advice is this: Visit Crete in the off-season if possible which means any month but July-August. Base yourself in Chania for starters and explore the interior of the island, the mountain villages and the fields and hillsides which are alive with wildflowers in the spring. You will need at least a week here, just exploring the area around Chania. If possible, book yourself or have your travel agent book you in different towns around the island. You can even base yourself in the resort areas without running with the crowds, if it is near a part of the island you want to see. There are several guidebooks for sale on the island including a guide to the Monasteries which I recommend. Take your meals at the small tavernas in villages away from the tourists and get to know the people who are Crete's finest asset. The fancy resorts are a modern phenomenon. Who knows if they are the trend or will wind up as relics like the ruins at Knossos? The point is they have been imposed upon the island by external forces who saw Crete as a paradise on earth, well worth the exploitation. I don't condemn this because the nature of tourism is commerce and who am I to judge the needs of the package tourists or the Cretan people who prosper from the flow of dollars, pounds and Euros. If sun, sea, beer and companionship is what you have come to Greece for then you will find the resorts very satisfying as some of these giant companies have created a new Greece, grafting Caribbean tourist culture with the famous Hellenic hospitality. But if you are looking for the magic head for the hills. You'll find the people where the tourists aren't. As for the beaches, the island is big and somewhere there is a secluded little cove with your name on it.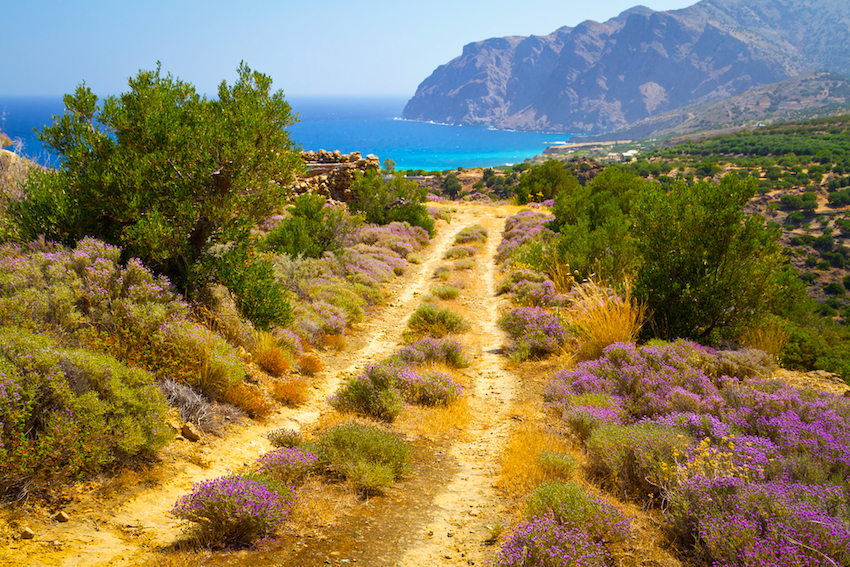 Helpful Services and Information for Crete

Golf in Crete
Crete is home to a spectacular 18-Hole Golf course! If you have always wanted to visit Greece but your husband won't go on vacation anywhere he can't play golf then come to Crete.
See Crete Golf Club
Lefteris Nikiforakis Taxi Tours of Crete offers a one day tour and a 4 hour tour for people arriving on cruise ships who want to make the most of their time on the island. He also does custom trips and transfers to and from the port to hotels, the airport and anywhere on the island. This is a great way to see the island if you don't want to rent a car or be with a group of people. If you share the cost between 3 or 4 people it is a bargain if you compare it to the cost of a bus tour. See www.greecetravel.com/crete/taxitours
Car Rentals
Autohire Chania is a family car rental business operating since 1996! Their office is located in the town of Agia Marina in the prefecture of Chania, but they have available service points, pick up and drop off locations from Heraklion city to Chania. See their website
Dolphin Hellas Travel offers individual hotels to Crete or packages in combination with Athens or other islands. See their web-site at www.greecetravel.com/dolphinhellas
Fantasy Travel in Athens is an excellent agency and they have some great prices for hotels in Crete as well as itineraries that combine Crete with other islands like Santorini, Mykonos, Rhodes and others. Prompt, efficient and highly recommended. See www.fantasytravelofgreece.com
Hotels in Crete: See the Crete Hotels section for suggested hotels and booking information. You can find hotels, apartments, rooms and even houses through Booking.com's Crete Pages which also contributes to my website when you book. Also see Matt's Hotels of Greece Crete Page.
Getting to Crete: See the Flights and Ferries to Crete section.

Use Ferryhopper to find all direct and indirect ferry routes for the islands of Greece, Spain, Italy & Turkey, compare ferry companies & prices, and book cheap ferry tickets with no hidden fees in one go!
Crete – A Notebook by Richard Clark, is a series of snapshots of his experiences on an island he has grown to cherish. It is less of a travel guide and more of a traveling companion. Whether a regular visitor or a first time traveler there, this book provides an invaluable insight into life past and present on this exquisite island. The author is a writer, editor and journalist who has worked on an array of national newspapers and magazines in the UK. He is married with two grown up children and lives in Kent.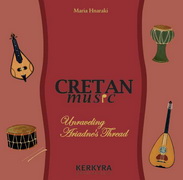 Unraveling Ariadne's Thread: Cretan Music by Maria Hnaraki, Ph.D.: "Young Academic Writer and Researcher in the Areas of Cretan Culture and Dance" Award by the Pancretan Association of America. "Crete is an island where many people from different countries, cultures and religions have lived and have left their traces. So isn't music in Crete today a product of all these mixtures and cultural elements?" Dr. Hnaraki's self-posed question is answered in the affirmative as the author takes the reader on a journey of discovery through the five steps -- or five chapters -- of this book, constructed in the spirit of the traditional pendozalis five-step dance. Writing in an intensely personal style, bringing into her narrative gods and heroes from Greek mythology and literature as well as present-day musicians and performers, Hnaraki succeeds in evoking both the rich history and the vibrant present of Cretan music.
The book is written in the English language. It includes notes, list of sources, glossary and suggested discography for readers who wish to study certain topics further. A CD including traditional Cretan songs and dances accompanies the book.
Maria Hnaraki is an artist and a scholar…So here is a work of feeling and thought. Dealing in beauty and tragedy – two things that are undistinguishable in Greek (and Cretan) tradition. You may read it as a treatise or you may enjoy it as a performance. It is both. -Nikos Dimou, writer
You can order this and other books from Greece In Print by using their form. For more books about Greece see www.greektravel.com/books
More Greece Information

For more information about Greece visit Matt Barrett's Greece Travel Guide

If you have questions about Greece email: matt@greecetravel.com
If you arrive from abroad and you need to get to Pireaus to catch the ferry to Crete I recommend George the Famous Taxi Driver. Plus if you have some time to spare, as some of you will, you can do a little tour of the city. For your return to Athens from Crete I also recommend using him to get to your hotel or the airport. When the ferries arrive in Pireaus you will be very happy to see a guy holding up a sign with your name on it. See his web-site at www.greecetravel.com/taxi